William Bishop
Tools of War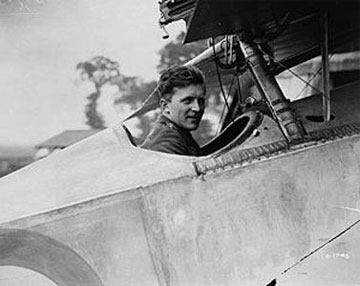 Nieuport 17
An upgrade in size and power to the Nieuport 11, this French biplane handled very well and was popular in the RFC. The Nieuport 17 typically had either a Lewis gun mounted on the upper wing (an earlier option) or a synchronized Vickers gun – most RFC planes had the Lewis gun, which could slide down on a Foster mounting to be reloaded. While most Allied forces phased the 17 out by early 1917, the RFC kept them around until early 1918.
Most of Bishop's victories were scored in the cockpit of his Nieuport, distinguishable from others in the Squadron by its nose, which Bishop had painted blue.
Royal Aircraft Factory S.E.5a
One of the fastest, most stable biplanes of the First World War, the Royal Aircraft Factory Scout Experimental 5 (S.E.5) came into use just before the Sopwith Camel. Engine problems kept it from becoming as popular as the Camel, but the S.E.5a offered many improvements in consistency. Pilots were able to use both a synchronized Vickers machine gun and a wing-mounted Lewis gun on a foster mounting – the latter gave them the ability to fire in different directions than they were flying.
Bishop began flying the S.E.5a shortly after his attack on the German aerodrome, where his actions earned him the highest Commonwealth award for valour in the face of the enemy – the Victoria Cross.