Victoria Cross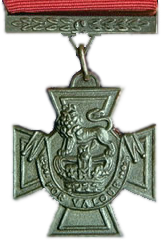 The Victoria Cross is named after Queen Victoria (1819-1901) who became Queen as a teenager in 1837 and reigned for sixty-four years until her death at age eighty-one.
In 1854, Great Britain became involved in the Crimean War against Russia. By 1856 Queen Victoria and her advisors created a medal as a special way of rewarding people who had shown unusual acts of bravery and gallantry during battle. This medal would be called the Victoria Cross.
It was also decided that the Victoria Cross should be available to men of all ranks in the armed forces who demonstrated conspicuous bravery or some daring or pre-eminent act of valour or self-sacrifice or extreme devotion to duty in the presence of the enemy. The Queen awarded the first Victoria Cross medals in 1857 for acts of bravery in 1854 in the Crimean War.
The medal takes the shape known as the Maltese cross. In the centre is the Royal Crown with a lion standing guard upon it. Below the Crown are two simple words: FOR VALOUR.
The date of the act of bravery is engraved on the back of the cross. Since the first medals in 1857, the cross has been made of bronze taken from the metal of one of the Russian guns captured by the British during the Crimean War.
The Medal is mounted to the ribbon by a straight bar (ornamented with laurels). The rank, name and regiment of the recipient of the Victoria Cross are engraved on the back of the mounting bar.
When Queen Victoria first presented the medals in 1857 some of the ribbons were dark blue (for Navy) and some were crimson red (for Army). After the First World War all ribbons became the same crimson red colour.
In total, 1,351 Victoria Crosses were awarded, 99 of which were to Canadians and 13 associated with Canada. Of the 99 awards to Canada, 10 were pre-First World War including five in South Africa, 73 were awarded for acts of valour during the First World War and 16 were awarded for the Second World War.
Summary of Canadians Awarded the Victoria Cross
| | |
| --- | --- |
| Prior to South African War | 5 |
| South Africa (Boer War) | 5 |
| First World War | 73 |
| Second World War | 16 |