Alan McLeod
Tools of War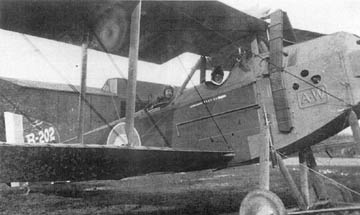 Armstrong Whitworth F.K.8
A relatively large airplane by First World War standards, the Armstrong Whitworth F.K.8 (nicknamed "Ack-W" or "Big Ack") was a sturdy, reliable and not very agile machine that was popular among pilots. Dutch designer Frederick Koolhoven designed the plane for British aircraft manufacturer Armstrong Whitworth. Over 30 feet in length and with a wingspan of just over 43 feet, the F.K.8 was typically used for reconnaissance, artillery spotting and light bombing.
Its single engine helped the F.K.8 reach speeds of up to 140 kilometres per hour, an altitude of 13,000 feet and a range of 380 kilometres. Along with its pilot and observer or gunner, the Ack-W could carry a mere 70 kilograms of bombs. It was typically fitted with a fixed forward Vickers machine gun and a Lewis machine gun on a Scarff ring.
McLeod and Hammond's plane carried the serial number B5773.