William Barker
Script
William Barker "A Modest Hero"
The most decorated member of Canada's military, William Barker started out in the trenches. Longing for an escape from the filth and horror of the ground war, he quickly realized his calling was in the air.
His disregard for danger often put him (and sometimes his fellow airmen) in danger, but "Slippery Bill" Barker usually emerged from combat unscathed. Eventually, however, his antics nearly killed him in his final battle shortly before the end of the First World War.
PAGE ONE
NEXT IMAGE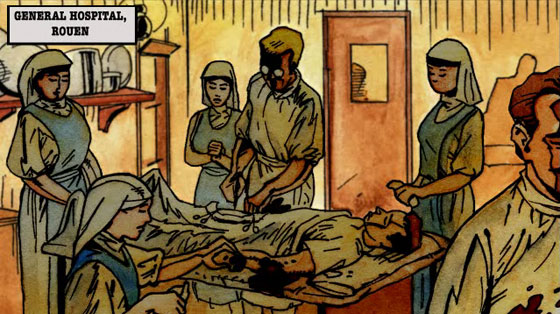 A WWI meatball field surgery. The doctor wears a blood-spattered smock over a drab brown uniform. The nurses are nuns with white aprons over their white and light-blue habits. The doctor leans close over a horrific wound in a young man's upper leg. A nurse dabs with a blood-soaked cloth at the ragged edges of his left arm which is actually missing an elbow. The patient is Major William George Barker.
CAPTION: GENERAL HOSPITAL, ROUEN
NEXT IMAGE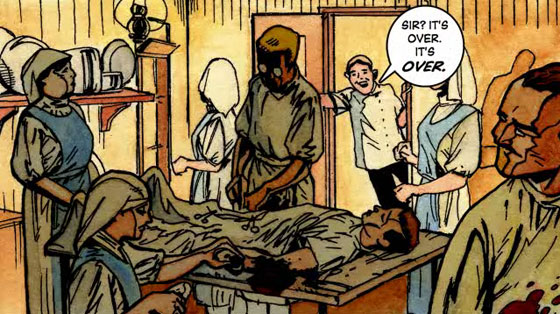 A young orderly enters the field hospital, wooden door flying open. The nurses stop to look at him. The doctor does not.
SFX: BANG!
ORDERLY: SIR? THE WAR, IT'S OVER!
NEXT IMAGE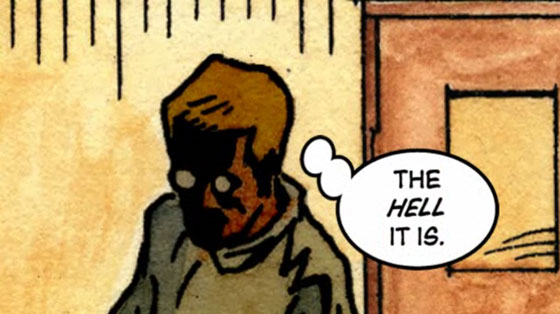 Closer on the operating table. Nurses hug or clasp hands in joyful prayer. The doctor operates.
DOCTOR: (thought) THE HELL IT IS.
PAGE TWO
This page charts the slow convalescence of Maj Barker in the hospital. The weather, time of day, neighbouring patients in the background, a flower in a vase, a book or glass of water on the side table, all may change to show the passage of time.
NEXT IMAGE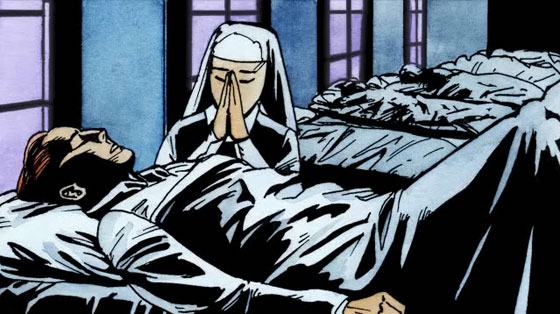 Barker lies flat in bed, both legs suspended in pulleys. A nurse clasps her hands in prayer over the man.
NEXT IMAGE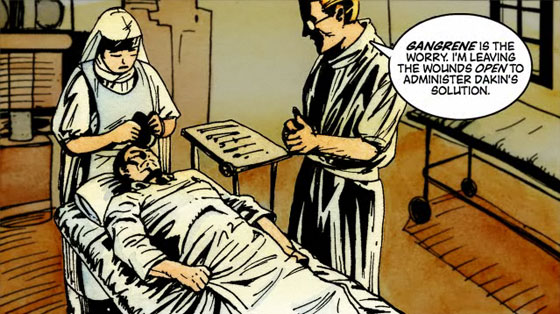 Barker on the operating table, his eyes clenched shut in pain, the doctor at his side. A nurse hovers a rubber mask over Barker's face.
DOCTOR: GANGRENE IS THE WORRY. I'M LEAVING THE WOUNDS OPEN TO ADMINISTER DAKIN'S SOLUTION.
NEXT IMAGE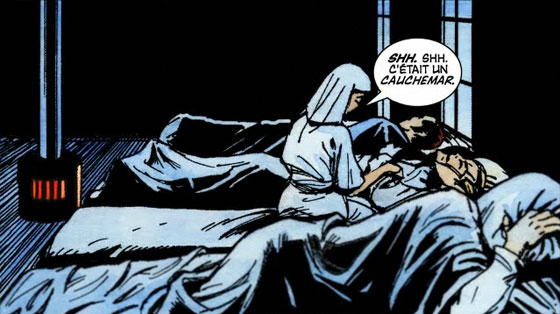 Night. Barker lies flat in his bed. A nurse holds his right hand.
NURSE: SHH. SHH. C'ÉTAIT UN CAUCHEMAR.
NEXT IMAGE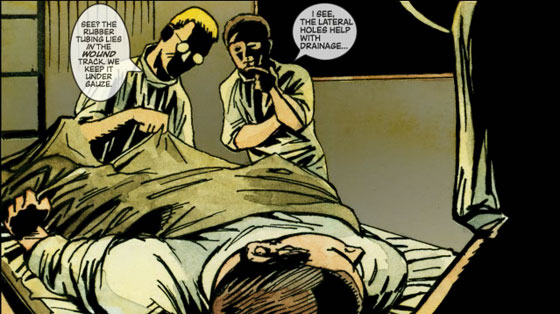 Barker on the operating table with two doctors (one old, one young) working on Barker's hip.
DOCTOR: SEE? THE RUBBER TUBING LIES IN THE WOUND TRACK. WE KEEP IT UNDER GAUZE. YOUNG DOCTOR: I SEE, THE LATERAL HOLES HELP WITH DRAINAGE…
NEXT IMAGE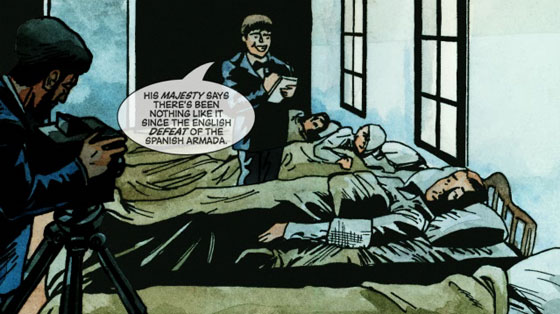 Barker lies flat while one man adjusts a camera on a tripod at the foot of the bed and another stands by Barker's side with a pencil and a notepad.
REPORTER: HIS MAJESTY SAYS THERE'S BEEN NOTHING LIKE IT SINCE THE ENGLISH DEFEAT OF THE SPANISH ARMADA.
Barker, eyes open, does not respond.
NEXT IMAGE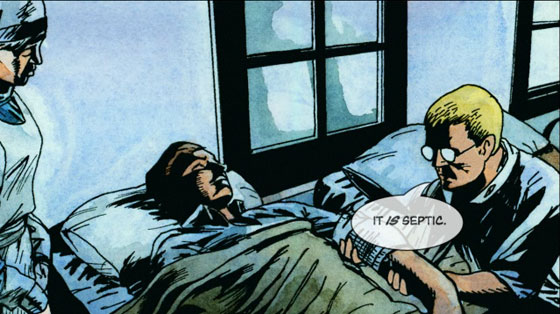 Barker on the operating table, pale, sweating, eyes clenched in pain. The doctor bends to sniff the shattered left elbow.
DOCTOR: IT IS SEPTIC.
NEXT IMAGE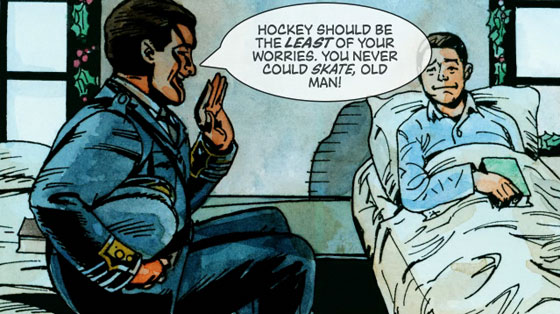 Barker in bed, his legs no longer elevated, his head and shoulders propped up slightly with pillows. Christmas decorations cheer up the window sills. RAF Captain Johnstone sits at his side, forage cap tucked under one arm. Johnstone laughs. Barker smiles grimly.
CAPT JOHNSTONE: HOCKEY SHOULD BE THE LEAST OF YOUR WORRIES. YOU NEVER COULD SKATE, OLD MAN!
NEXT IMAGE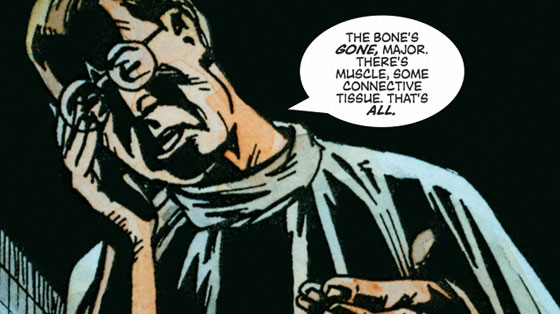 Barker on the operating table. The doctor rubs the bridge of his nose under his glasses.
DOCTOR: THE BONE'S GONE, MAJOR. THERE'S MUSCLE, SOME CONNECTIVE TISSUE. THAT'S ALL.
NEXT IMAGE
Barker sits up in bed. A cane leans against his bedside table. An entourage of officials and brass surrounds his bed and the general at its side. Barker looks unimpressed and uses a finger to keep his place in a small book.
GENERAL: 60-TO-1, MAJOR BARKER! A DAMNED FINE SHOW!
BARKER: I WAS SEVERELY WOUNDED AND SHOT DOWN. THAT'S IT.
GENERAL: LADS, THIS IS THE MORAL FIBRE WE NEEDED THREE YEARS AGO!
PAGE THREE
NEXT IMAGE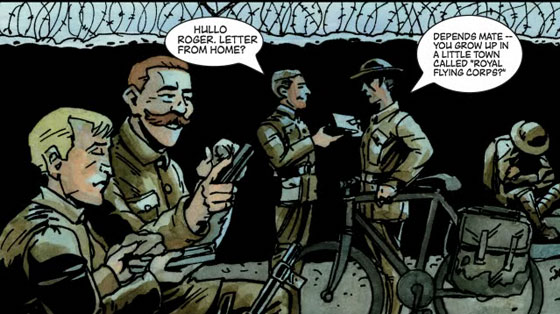 A tin-hatted soldier withdraws a letter from his bicycle's mail bag. The trench is a world of mud with wooden planks spanning many of the puddles. Doorways flanked by sandbags lead underground. Sad, dirty men sit on their rucksacks, lean on their rifles or shave out of puddles along one side. The other side of the trench bears a column of zombie-eyed men at the halt. Three men laugh while kneeling and attending to the cleaning of a Colt-Browning machine gun. BARKER and DUNCAN are young but HOWARD is avuncular and older with an impressive moustache.
BARKER: HULLO ROGER. LETTER FROM HOME?
MAIL SOLDIER: DEPENDS MATE — YOU GROW UP IN A LITTLE TOWN CALLED "ROYAL FLYING CORPS?"
NEXT IMAGE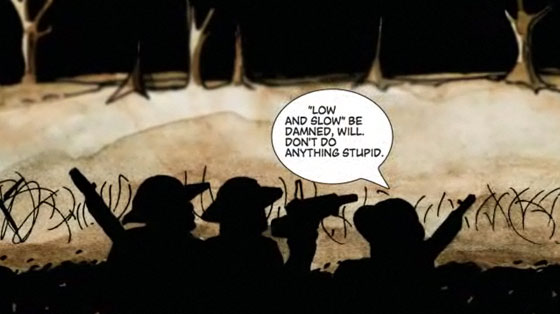 Night time. Will sits behind the Colt-Browning, peering down the sights. HOWARD and DUNCAN crouch on either side of him, squinting into the darkness over the Western Front's no man's land.
DUNCAN: "LOW AND SLOW" BE DAMNED, WILL. DON'T DO ANYTHING STUPID.
BARKER: I'M TRAINING AS AN OBSERVER, DUNCAN. CAN'T SHOOT MUCH WITH A CAMERA.
DUNCAN: BUT THE GUNNERS CAN. BESIDES — YOU'LL BE A PILOT BEFORE LONG,I RECKON.
NEXT IMAGE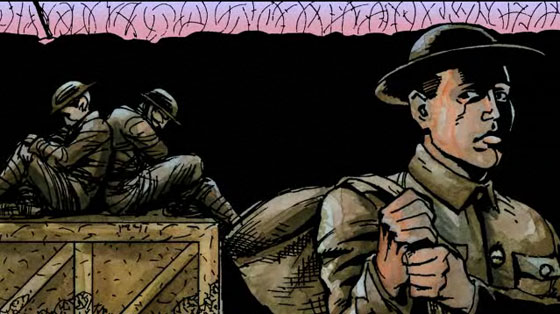 Dawn. Barker hefts a duffelbag and looks at Howard and Duncan asleep against the wall of the trench, sitting back to back.
NEXT IMAGE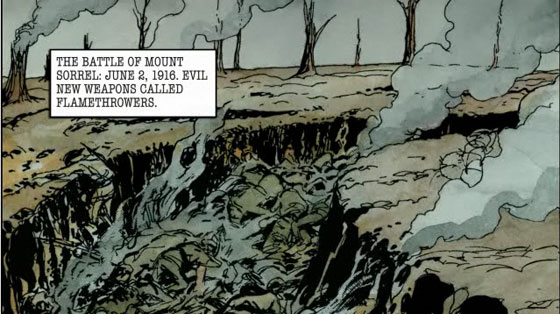 This panel needs to be a nightmare. Take as much page as you can to communicate the full grisly horror or WWI trench warfare.
CAPTION: THE BATTLE OF MOUNT SORREL: JUNE 2, 1916. EVIL NEW WEAPONS CALLED FLAMETHROWERS.
CAPTION: A MASSACRE.
CAPTION: HOWARD WAS SAFE BUT COUSIN DUNCAN WAS NOT SO LUCKY. 11,000 MORE CANADIANS LIKE HIM DIED BY THE END OF JUNE RETAKING THE GROUND.
CAPTION: WARS ARE NOT WAITED, NOT ENDURED. WARS ARE FOUGHT. DUNCAN'S DEATH CANNOT BE FOR NOTHING. ALL OUR BOYS' DEATHS CANNOT BE FOR NOTHING.
CAPTION: THIS WAR HAS TO END. IT HAS TO END AS FAST AS POSSIBLE.
PAGE FOUR
NEXT IMAGE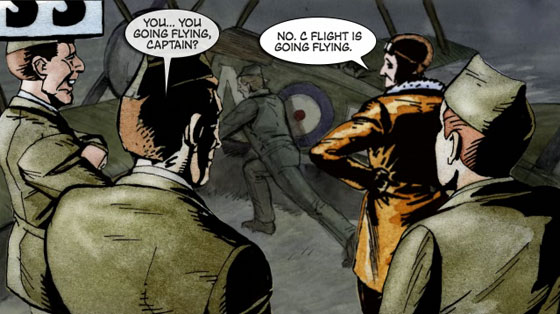 The sun isn't up high enough yet to burn the fog or the drizzle off the aerodrome. 2Lts MALIK, FENTON and JONES stand outside the door to the Mess watching Barker'S Sopwith Camel (tail number B6313) pushed out of the hangar.
CAPTION: DROGLANDT AERODROME
MALIK: YOU… YOU GOING FLYING, CAPTAIN?
BARKER: NO. C FLIGHT IS GOING FLYING.
FENTON: WE ARE? NO ONE IS FLYING TODAY. NOT EVEN THE HUNS.
NEXT IMAGE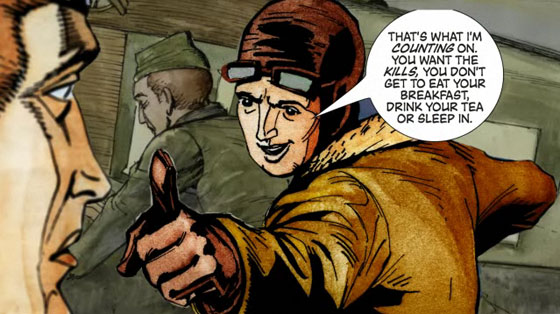 Barker points a finger at the three junior officers.
BARKER: THAT'S WHAT I'M COUNTING ON. YOU WANT THE KILLS, YOU DON'T GET TO EAT YOUR BREAKFAST, DRINK YOUR TEA OR GET TO SLEEP IN.
JONES: BUT THE Lieutenant-Colonel SAID–
BARKER: I'LL BRIEF YOU ON THE TARGET WHILE THE BOYS PRIME THE ENGINES.
NEXT IMAGE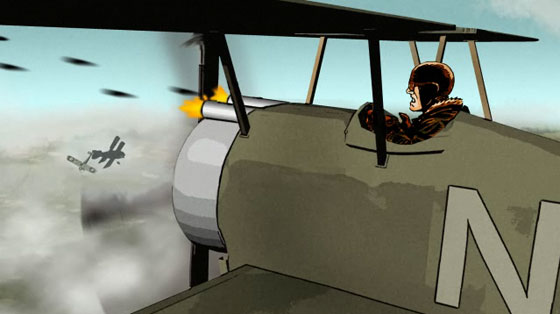 A whirling carnival of airborne mayhem. Four Camels against a dozen Albatross Scouts. Two distant Camels in flames. An Albatross with the wings cracking off under Barker's guns. Beneath Barker's leather flying helmet, his teeth are bared in ferocious determination.
NEXT IMAGE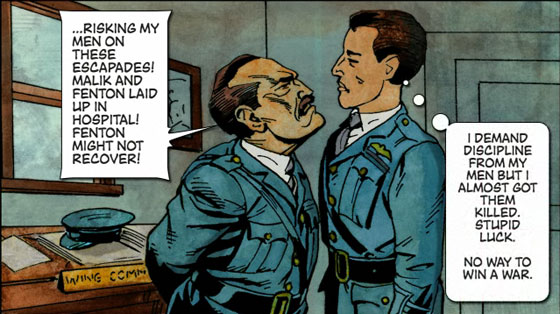 The Lieutenant-Colonel's office. Barker stands at attention as the shorter senior officer berates him.
WING COMMANDER: …RISKING MY MEN ON THESE ESCAPADES! MALIK AND FENTON LAID UP IN HOSPITAL! FENTON MIGHT NOT RECOVER!
BARKER: (thought) I DEMAND DISCIPLINE FROM MY MEN BUT I ALMOST GOT THEM KILLED. STUPID LUCK. NO WAY TO WIN A WAR.
NEXT IMAGE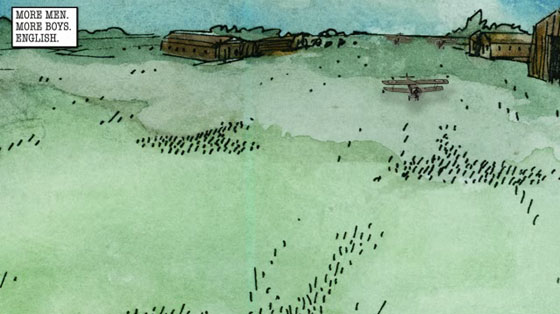 Barker taxis off in Camel B6313 with wingmen to his left and right.
CAPTION: MORE MEN. MORE BOYS. ENGLISH.FRENCH. ITALIAN. GERMAN.
NEXT IMAGE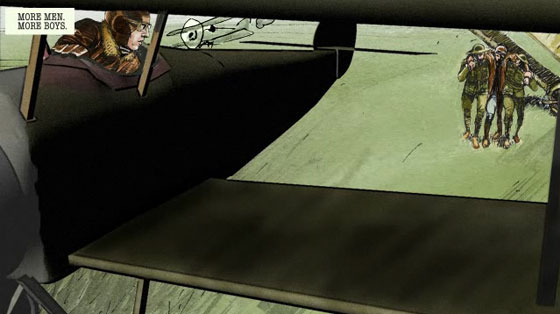 Barker lands Camel B6313 with only one shaken wingman, bullet holes stitch his aircraft. An ambulance pulls a limp pilot from a Camel crashed at the side of the runway.
CAPTION: MORE MEN. MORE BOYS.
PAGE FIVE
NEXT IMAGE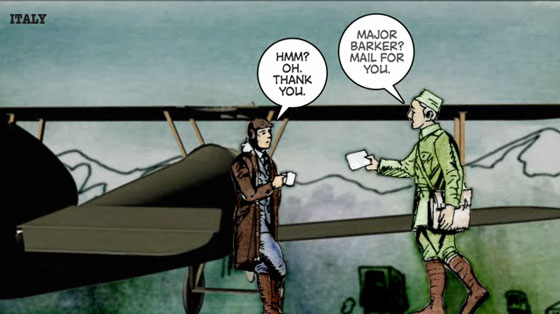 Barker sips tea from a tin cup and leans against B6313, now heavily decorated with alternating white & black fuselage bands, dozens of stripes on the wing struts and a heart pierced by an arrow on the vertical tail fin. He watches a pair of ambulances race back from the runway to the hospital.
CAPTION: ITALY
A mail soldier approaches on his bicycle.
MAIL SOLDIER: MAJOR BARKER? MAIL FOR YOU.
BARKER: HMM? OH. THANK YOU.MAIL SOLDIER: AND ORDERS, SIR.
BARKER: ORDERS?
NEXT IMAGE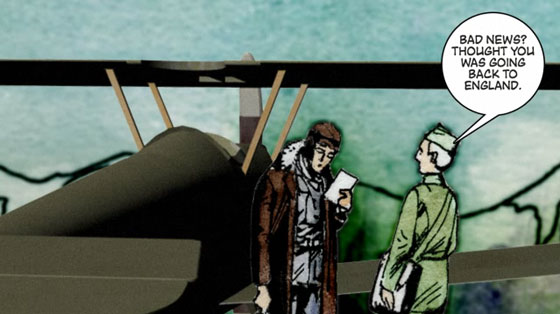 Barker reads his orders. His tea cup dangles at his side, pouring tea to the ground. The Mail Soldier is perplexed.
MAIL SOLDIER: BAD NEWS? THOUGHT YOU WAS GOING BACK TO ENGLAND.
BARKER: I AM.
MAIL SOLDIER: BEG PARDON — AIN'T THAT GOOD NEWS, SIR?
NEXT IMAGE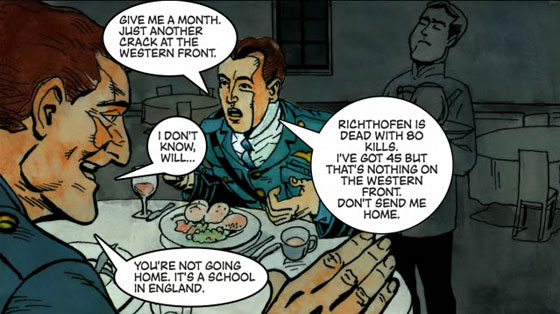 Barker and the Wing Commander talk over dinner. Barker is intense, impassioned, leaning forward, ignoring his plate.
BARKER: GIVE ME A MONTH. JUST ANOTHER CRACK AT THE WESTERN FRONT.
WING COMMANDER: I DON'T KNOW, WILL…
BARKER: RICHTHOFEN IS DEAD WITH 80 KILLS. I'VE GOT 45 BUT THAT'S NOTHING ON THE WESTERN FRONT. DON'T SEND ME HOME.
WING COMMANDER: YOU'RE NOT GOING HOME. IT'S A SCHOOL IN ENGLAND.
NEXT IMAGE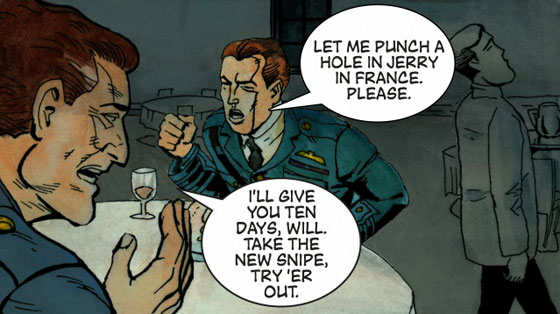 The argument continues. The Wing Commander sends back a steward hovering with coffees.
BARKER: LET ME PUNCH A HOLE IN JERRY IN FRANCE. PLEASE.
WING COMMANDER: I'LL GIVE YOU TEN DAYS, WILL. TAKE THE NEW SNIPE, TRY 'ER OUT.
PAGE SIX
NEXT IMAGE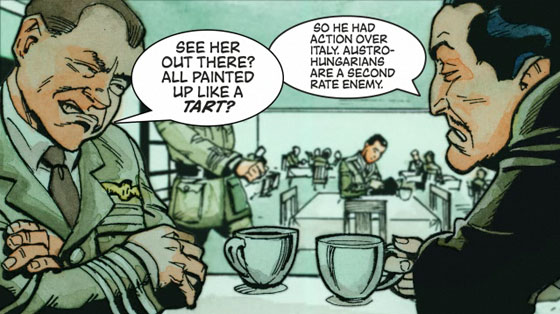 In the background, Barker sits alone at a table in the Mess. Jaded men sneer at him from their tables in the foreground. Barker ignores them.
CAPTION: FRANCE
PILOT 1: SEE HER OUT THERE? ALL PAINTED UP LIKE A TART?
PILOT 2: SO HE HAD ACTION OVER ITALY. AUSTRO-HUNGARIANS ARE A SECONDRATE ENEMY.
PILOT 1: HAD THE BLOODY FLYING CIRCUS ON US, DINT WE! AND WHERE WAS HE DURING OP MICHAEL, EH?
PILOT 2: WE'RE ALL ACES HERE. SO OW'S 'E GET TO FLY WHEN AND WHERE HE BLOODY WELL LIKES?
NEXT IMAGE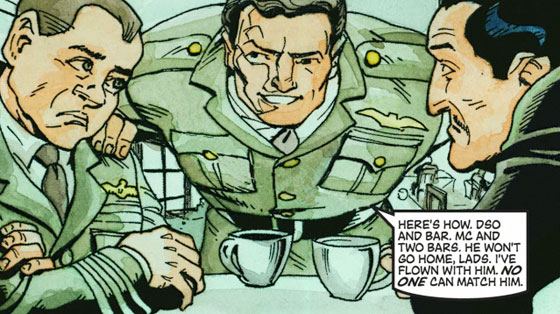 MAJOR CYRIL LEMAN leans down between the pilots, an arm over each others' shoulders.
LEMAN: HERE'S HOW. DSO AND BAR. MC AND TWO BARS. HE WON'T GO HOME, LADS. I'VE FLOWN WITH HIM. NO ONE CAN MATCH HIM.
NEXT IMAGE
Leman joins Barker. They shake hands warmly.
NEXT IMAGE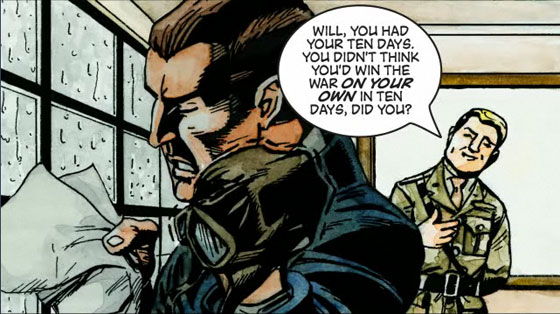 Barker and Leman stand in the briefing room, rain pelting down on the windows. Barker, enraged, holds orders in one hand and throws his leather flying helmet down with the other.
LEMAN: WILL, YOU HAD YOUR TEN DAYS. YOU DIDN'T THINK YOU'D WIN THE WAR ON YOUR OWN IN TEN DAYS, DID YOU?
BARKER: BAD WEATHER. NO PATROLS. I JUST WANTED A FIGHT!
PAGE SEVEN
NEXT IMAGE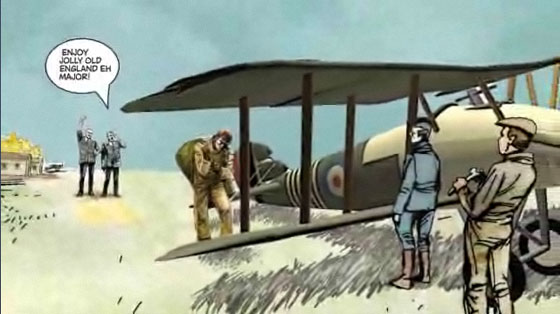 Will walks to his Sopwith Snipe, duffelbag slung over one shoulder.
Maj Leman waits for him at the aircraft with an engine fitter. The two sneering pilots wave good-bye as he passes by them.
PILOT 1: ENJOY JOLLY OLD ENGLAND, EH MAJOR!
PILOT 2: YEAH, WE'LL TAKE IT FROM HERE!
NEXT IMAGE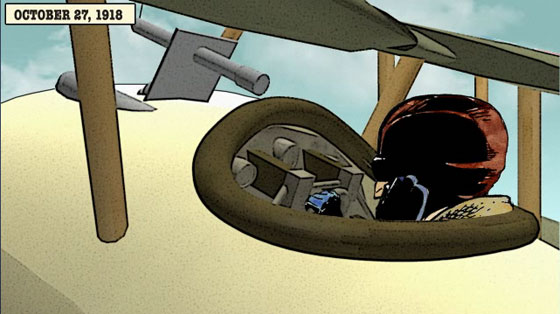 At 15,000 feet, Barker is bored. He flies the Snipe one-handed and leans his chin on the other. He's moping.
CAPTION: OCTOBER 27, 1918
NEXT IMAGE
Barker stretches his neck, looks up and sees a single two-seater German reconnaissance aircraft.
BARKER: (thought) HEH. MAYBE ONE FOR THE ROAD.
NEXT IMAGE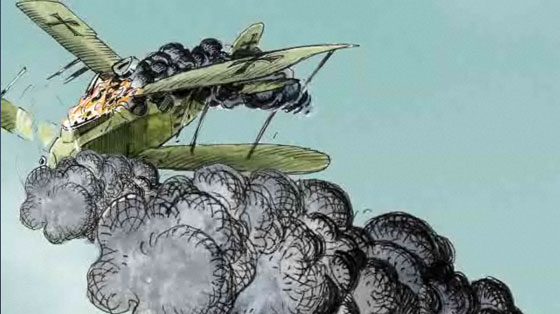 SFX: ACK-ACK-ACK-ACK-ACK!
Barker, below and behind, hammers the guns and watches the twoseater break apart, one parachute billowing free. Mesmerized, he does not see the German D.VII climbing behind him.
NEXT IMAGE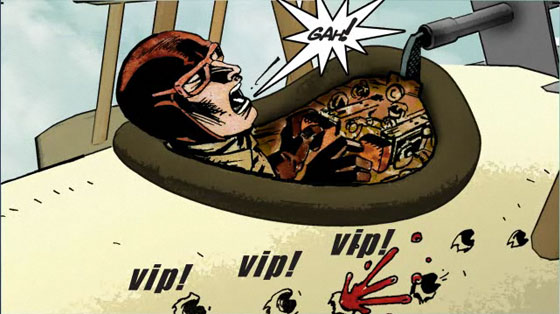 SFX: ACK-ACK-ACK!
Barker feels the pain as bullets rip through the fuselage and punch through his right thigh!
BARKER: GAH!
NEXT IMAGE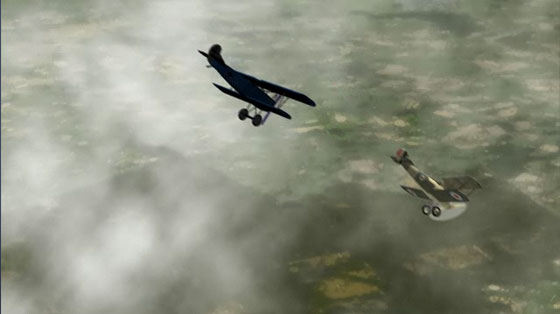 Barker's Snipe enters a spin.
PAGE EIGHT – (1 Panel)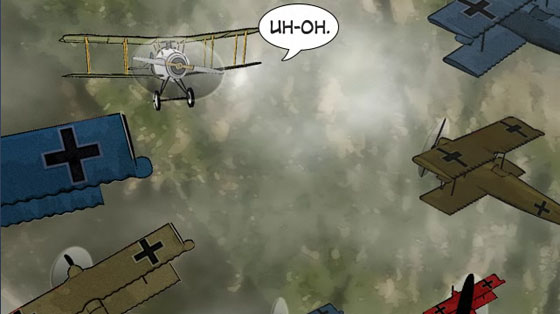 Barker recovers from his spin and sees…a squadron of Fokker aircraft heading straight for him!
BARKER: (whisper) UH-OH.
PAGE NINE
NEXT IMAGE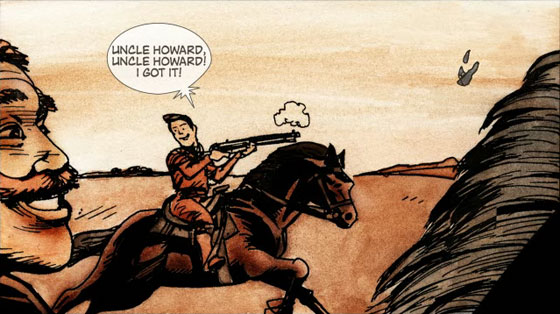 Sepia-toned flashback. Will at fourteen shoots a wild chicken on the wing from the back of a horse.
BARKER: UNCLE HOWARD, UNCLE HOWARD! I GOT IT!
HOWARD: AMAZING! YOU COULD BE A TRICKSHOT FOR THE CIRCUS, WILL!
NEXT IMAGE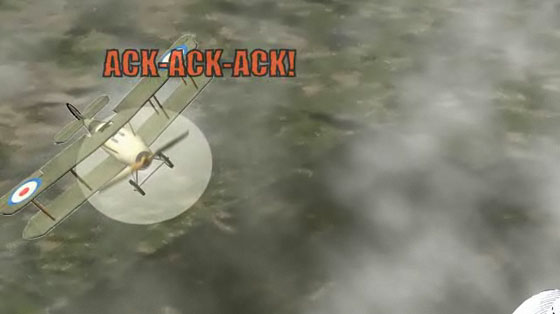 Barker yanks and banks, spraying bullets at two Fokkers closest to him. Both break apart and spin down out of control.
SFX: KER-RACK!
SFX: ACK-ACK-ACK! ACK-ACK-ACK!
NEXT IMAGE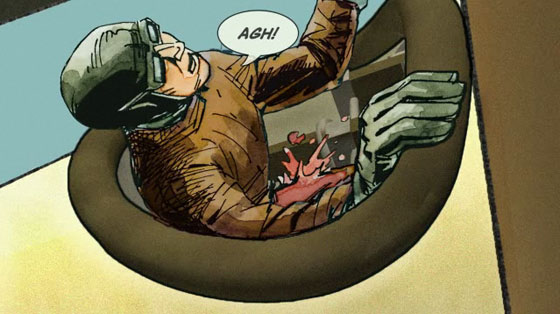 Fokkers are all around him. Bullets stitch through the left side of Barker's aircraft and shatter his left hip.
SFX: ACK-ACK-ACK!
BARKER: AGH!
Barker's eyes roll back and he passes out at 15,000 feet.
NEXT IMAGE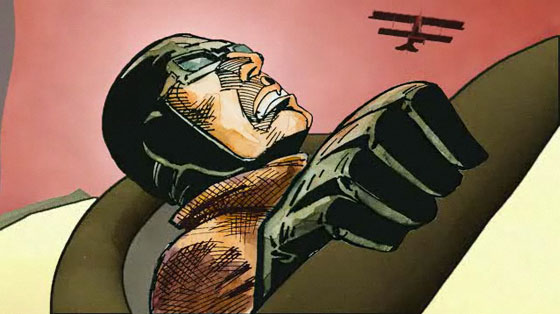 Barker opens one eye and recovers his aircraft. Blood spatters everything. A Fokker is on a collision course a mere 10 yards away.
BARKER: NOT YET, YOU BASTARD!
He fires his guns.
SFX: ACK-ACK-ACK!
NEXT IMAGE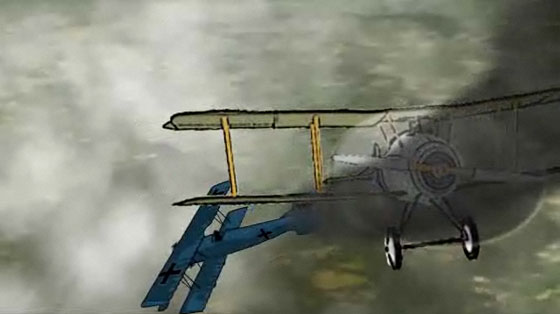 The German Fokker breaks up in flame as Barker flies straight through, pale with blood loss, unflinching.
PAGE TEN
NEXT IMAGE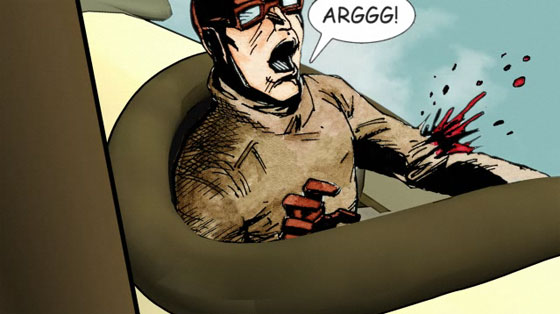 German bullets criss-cross all the space his Snipe has to fly through. A round smashes Barker's left elbow.
BARKER: ARGH!
Again, he faints, his head falling back. His aircraft dives into another spin.
NEXT IMAGE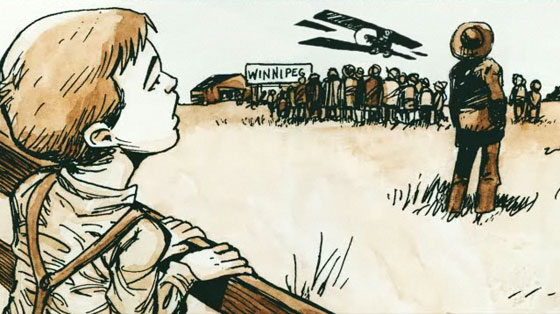 Another sepia-toned flashback. Young Will stands on the bottom rail of a fence and stares mouthagape like a baby bird. He watches a biplane barnstormer flying aerobatics during an exhibition flight in Winnipeg. The biplane flies by then crashes in a field.
NEXT IMAGE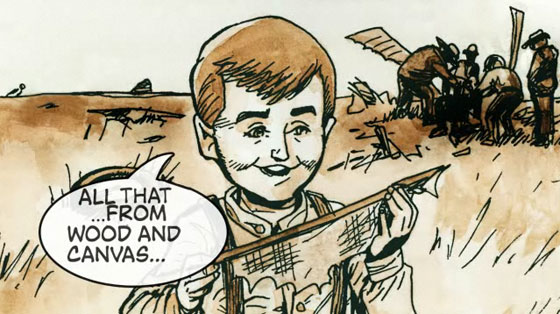 In the background, several grown men hoist the dazed and shaken pilot from the wreckage as Will in the foreground picks up a small shard of painted wood from the plane's crash.
BARKER: ALL THAT… FROM WOOD AND CANVAS…
NEXT IMAGE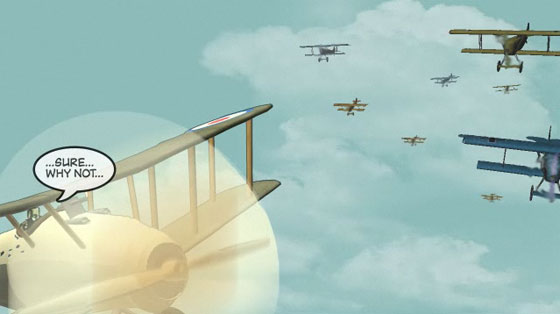 Will lifts his head. His eyes are dazed. His left arm hangs useless. He's just flown into another flight of 12 more Fokker aircraft.
BARKER: …SURE… WHY NOT…
NEXT IMAGE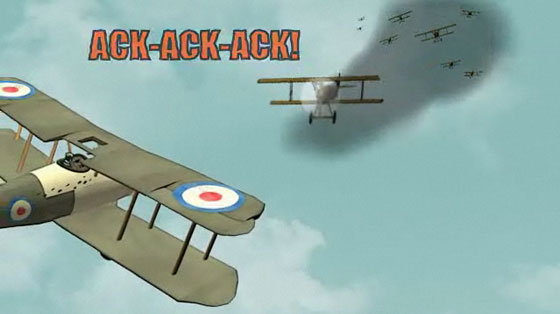 Barker flies into the thick of the Fokkers so closely that we see the terror on the face of at least one German pilot as they scatter.
SFX: ACK-ACK! ACK-ACK!
With sleepy eyes, Barker thumbs his guns from only a few yards. The German's plane catches fire.
SFX: WHOOMPH!
NEXT IMAGE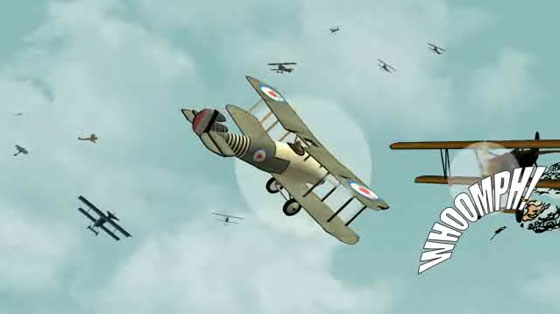 Will banks hard to chase the thick of them, his guns firing one short burst after another.
SFX: ACK-ACK! ACK-ACK!
Yet another eight Fokkers appear.
PAGE ELEVEN
NEXT IMAGE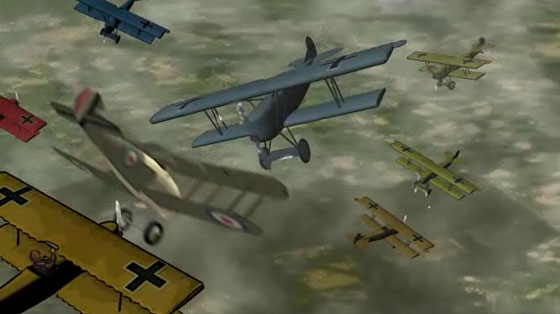 Bullets are everywhere. Barker dives through the cloud of enemy aircraft but he's so close that they can't shoot without risking hitting each other. One German pilot shakes a fist at another as two more in the background narrowly miss a mid-air collision. It's a maelstrom. Chaos in the air. Barker's Snipe hedge-hops towards a flight of British observation balloons.
NEXT IMAGE
Down on the ground, LT. FRANK WOOLEY holds a hand to his eyes as a visor. Barker's Snipe is limping in.
WOOLEY: HEADS-UP — WE'VE GOT A WOUNDED BIRD DROPPING IN.
NEXT IMAGE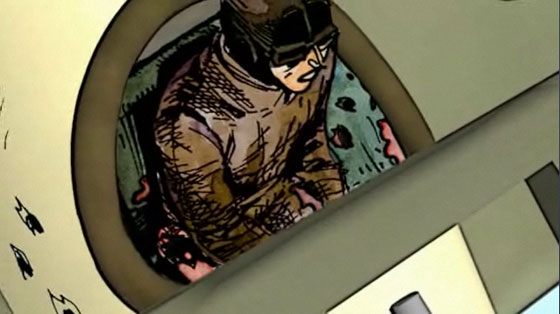 Eyes half-closed, face pale with shock and blood-loss, Barker pushes forward on the stick and drops the Snipe into the mud at a sick angle.
NEXT IMAGE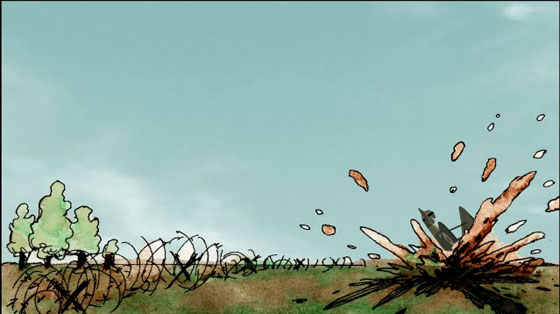 The Snipe crashes next to one of our balloons and ends up on its nose. Men from 29 Kite Balloon Section chase the carnage, gunners covering them from the retreating cloud of Fokkers.
NEXT IMAGE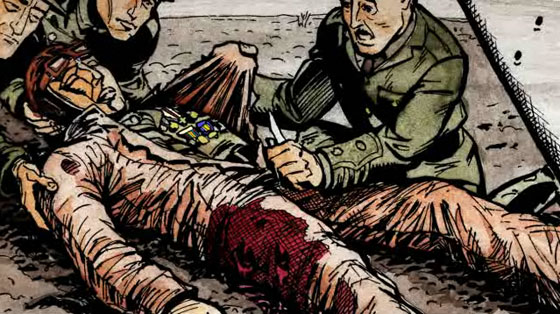 Barker is a mess and unconscious. Wooley cuts open Barker's Sidcot aviation suit, reveals a blood-soaked tunic with a rack of medal ribbons.
WOOLEY: (whisper) JAYS-US…
NEXT IMAGE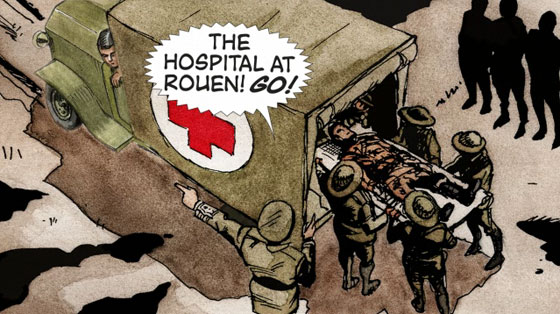 Wooley supervises loading Barker into the back of a truck.
WOOLEY: THE HOSPITAL AT ROUEN! GO!
PAGE TWELVE
NEXT IMAGE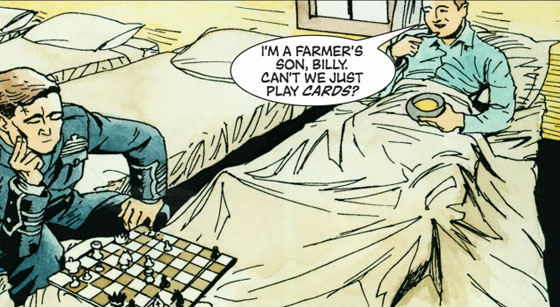 Barker sits up in bed, slurps soup with his right arm. Another pilot, BILLY BISHOP sits at his side and muses over a chessboard.
BARKER: I'M A FARMER'S SON, BILLY. CAN'T WE JUST PLAY CARDS?
BISHOP: NAH. YOU MIGHT WIN. HOW MANY ANYWAY?
BARKER: TIMES YOU'VE BEATEN ME?
BISHOP: SURGERIES.
BARKER: …
BISHOP: HOW MANY?
BARKER: SEVENTEEN.
NEXT IMAGE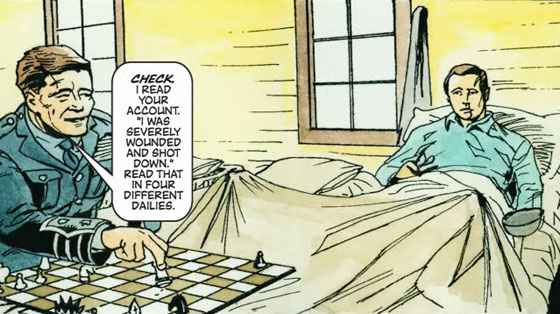 Bishop moves a pawn. There aren't a lot of pieces left on Barker's side of the board.
BISHOP: CHECK. I READ YOUR ACCOUNT."I WAS SEVERELY WOUNDED AND SHOT DOWN." READ THAT IN FOUR DIFFERENT DAILIES.
BARKER: IT'S TRUE.
BISHOP: TRUTH. -SNORT- NONE OF THEM CAN UNDERSTAND THIS. ANY OF THIS.
BARKER: WE CAN.
NEXT IMAGE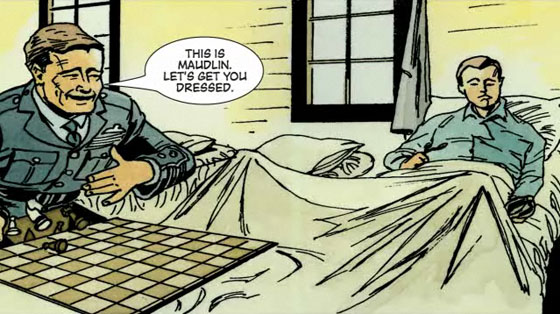 Bishop scoops all the chess pieces back into the box.
BISHOP: THIS IS MAUDLIN. LET'S GET YOU DRESSED.
BARKER: I'LL TAKE MAUDLIN OVER EMBARRASSING. I WON'T HAVE YOU HELP ME DRESS, BILLY.
BISHOP: GOD NO, I WAS ABOUT TO SUMMON ONE OF THOSE PRETTY NURSES. GOT TO LOOK GOOD FOR THE KING.
BARKER: THEY'RE NUNS.
BISHOP: STILL…
NEXT IMAGE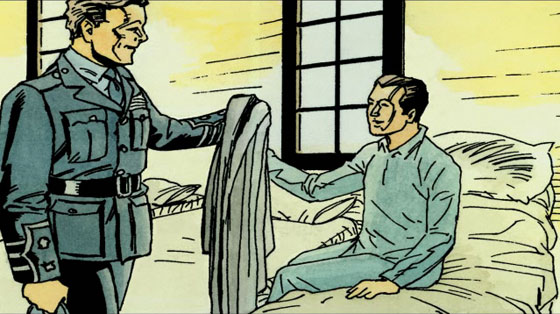 Bishop hands Barker a cane and a dressing gown.
BISHOP: WILL? WAR'S OVER. YOU FOUGHT IT AND IT'S OVER.
BARKER: YEAH? SO?
BISHOP: IT'S PEACETIME. WE'RE PILOTS AND NOT MUCH ELSE. WHAT DO YOU SAY WE GIVE LIFE A TRY?
NEXT IMAGE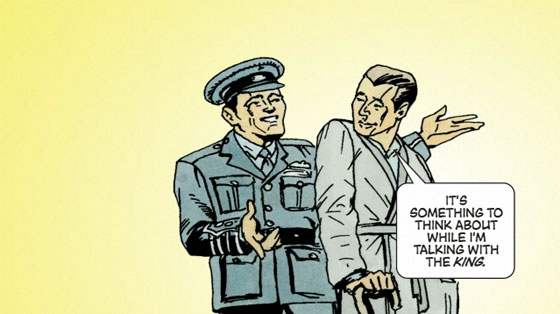 Barker leans on his cane and Billy Bishop.
BARKER: IT'S SOMETHING TO THINK ABOUT WHILE I'M TALKING WITH THE KING.
This episode produced entirely by students of Assiniboine Community College Web Design Program (2008-09)
Credits
Artist and Director
Curt Shoultz
Producer
Derek Ford
Lead 3D Modeller
Stacey Rose
3D Modelling Unit
Katelyne Boille
Andrea McDougald
Stanley Leung
Texturing Unit
Cassy Little
Stacey Rose
Katelyne Boille
Lead Animatic Technician
Stan Leung
Compositing and Animation Unit
Katelyne Boille
Rhett Borton
Mindy Brown
Christian Bull
Tyler Cameron
Stanley Leung
Cassy Little
Kaila MacDonald
Tyler Magee
Andrea McDougald
Kulani Nkuna
Keith Otto
Stacey Rose
Cali Saban
Robert Tardiff
Stacy Yeomans
Lead Colour Designer
Mindy Brown
Water Colouring
Kaila MacDonald
Katelyne Boille
Christian Bull
Lead Digital Corrections
Tyler Magee
Digital Corrections Unit
Tyler Cameron
Kaila MacDonald
Andrea McDougald
Stacy Yeomans
Mindy Brown
Ink Assist
Samantha Routhier
Jeff Joye
Brady Penner
Research
Stacy Yeomans
Kaila MacDonald
Tyler Magee
Katelyne Boille
Mindy Brown
Photographer
Greg Sherris
Sound Designer, Recorder & Mixer
Scott Enns
Sound Supervisor
Scott Enns
Writer
Ryan Fitzgerald
Special Thanks to
Health & Human Services
Damon Roth
Dan Choy
John Jameson