Script
Ian Bazalgette "What Greater Love…"
SUMMARY
Ian Bazalgette endured serious illness as a child, including four months of treatment for clinical tuberculosis. But, as is often said, what doesn't kill you makes you stronger. Baz was able to persevere, eventually joining the RAF Volunteer Reserve.
It was near Senantes, France that the Lancaster bomber Baz was piloting came under heavy fire. He was able to push the Lanc forward, marking the target for the main bomber force. With his aircraft badly damaged, he gave his crew the order to evacuate, but he stayed with the aircraft, attempting to save two injured crewmen. He steered the Lanc away from the village of Senantes and into a field, where it exploded.
PAGE ONE
NEXT IMAGE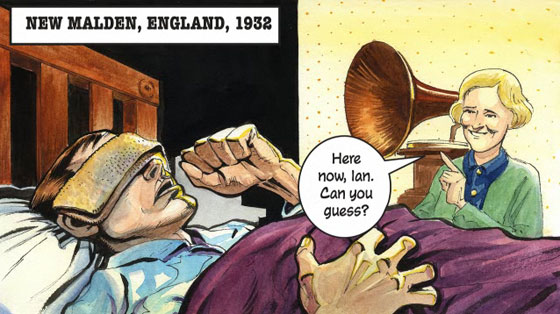 CAPTION: NEW MALDEN, ENGLAND, 1932.
A 14 year-old boy, IAN WILLOUGHBY BAZALGETTE, lies sweaty and feverish in his bed. A cloth lies across his eyes and forehead. A washbasin sits on a bedside table. His mother settles the needle on a record in a Victrola oak-horn phonograph.
MOTHER: HERE NOW, IAN. CAN YOU GUESS?
BAZALGETTE: -KOFF KOFF-… CHOPIN…?
MOTHER: GOOD.
NEXT IMAGE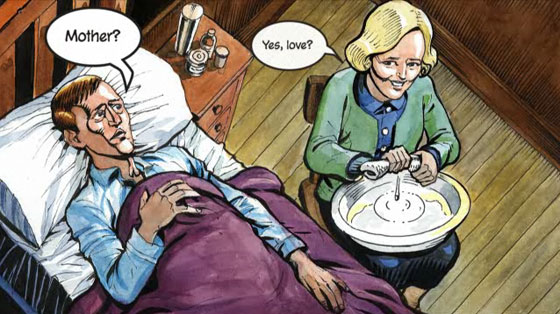 She sits at his bedside, wringing the cloth into the washbasin.
BAZALGETTE: MOTHER?
MOTHER: YES, LOVE?
BAZALGETTE: PEOPLE DIE OF TUBERCULOSIS, DON'T THEY.
NEXT IMAGE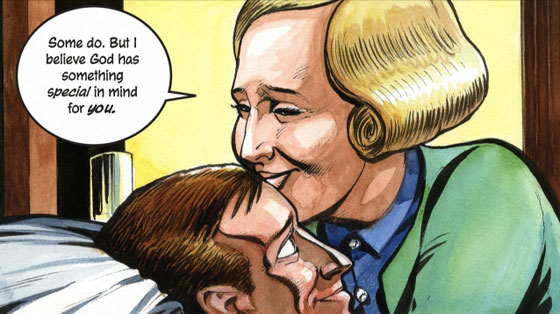 She leans over and kisses his forehead.
MOTHER: SOME DO. BUT I BELIEVE GOD HAS SOMETHING SPECIAL IN MIND FOR YOU.
NEXT IMAGE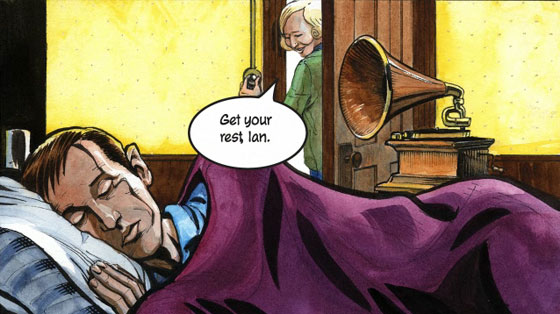 Mother stands at the door to the room, a hand on the old light switch.
MOTHER: GET YOUR REST, IAN.
NEXT IMAGE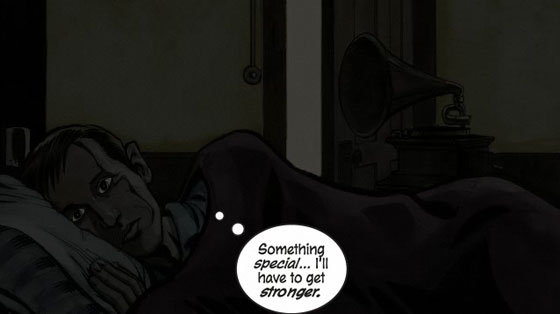 The room is dark.
BAZALGETTE (thought): SOMETHING SPECIAL… I'LL HAVE TO GET STRONGER.
PAGE TWO
NEXT IMAGE
Slim and now 25 years old, Squadron Leader (S/Ldr) Bazalgette stands at attention before an impressive wooden desk. The older GROUP CAPTAIN sits stroking his chin while a decorated SQUADRON LEADER leans on the corner of the desk, arms crossed.
SQN LDR: THIS IS BAZ, SIR, THE SQUADRON LEADER I TOLD YOU ABOUT.
GROUP CAPTAIN: BAZALGETTE, EH? ANY RELATION TO SIR JOSEPH BAZALGETTE?
BAZALGETTE: HE WAS MY GREAT-GRANDFATHER, SIR.
CAPTION: SCOTLAND SPRING 19444.
NEXT IMAGE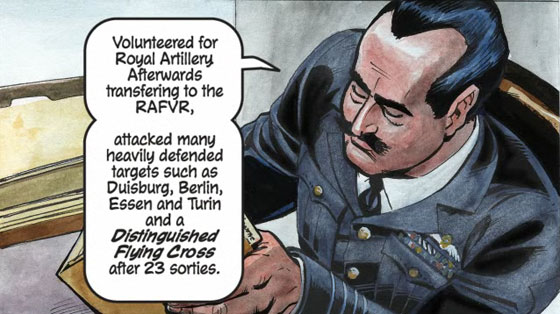 The Group Captain pages through a file on his desk blotter.
GROUP CAPTAIN: VOLUNTEERED FOR ROYAL ARTILLERY. AFTERWARDS TRANSFERRING TO THE RAFVR, ATTACKED MANY HEAVILY DEFENDED TARGETS SUCH AS DUISBURG, BERLIN, ESSEN AND TURIN AND A DISTINGUISHED FLYING CROSS AFTER 23 SORTIES.
NEXT IMAGE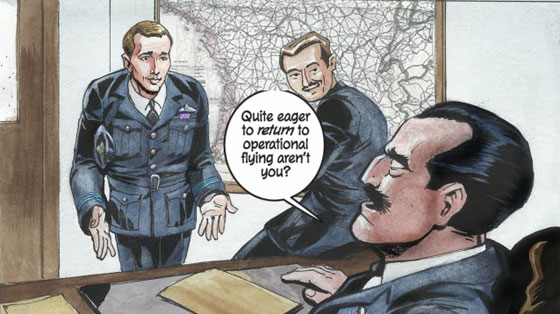 Bazalgette shrugs in modesty while the other men share a glance.
GROUP CAPTAIN: QUITE EAGER TO RETURN TO OPERATIONAL FLYING AREN'T YOU?
BAZALGETTE: PATHFINDERS. WITH YOUR INDULGENCE, SIR, I HAD VOLUNTEERED FOR PATHFINDER TRAINING.
GROUP CAPTAIN: YOU QUITE UNDERSTAND ONLY ABOUT 50% OF THE CREWS PASS THE TRAINING AND ARE CONSIDERED GOOD ENOUGH TO JOIN A PATHFINDER SQUADRON?
BAZALGETTE: IF THEY'LL TAKE ME, I'M GAME.
NEXT IMAGE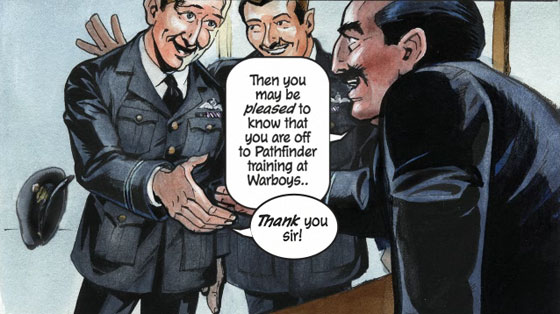 The Squadron Leader pumps Bazalgette's hand in congratulations.
GROUP CAPTAIN: THEN YOU MAY BE PLEASED TO KNOW THAT YOU ARE OFF TO PATHFINDER TRAINING AT WARBOYS.
BAZALGETTE: THANK YOU SIR!
GROUP CAPTAIN (CAP) : REMEMBER, IT DOESN'T GET ANY MORE DANGEROUS FOR A BOMBER CREW THAN PATHFINDERS.
PAGE THREE
NEXT IMAGE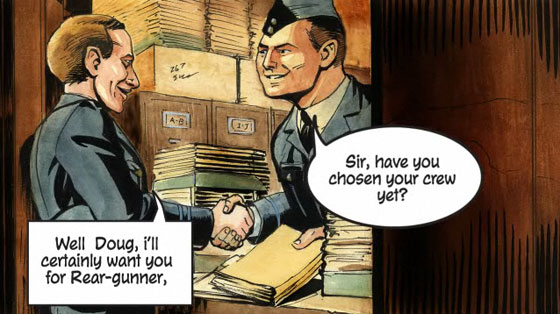 Bazalgette stands in the doorway of a small office, cramped with towers of files. FLIGHT LIEUTENANT FLYING OFFICER DOUGLAS CAMERON stands behind the desk, one arm extended to shake hands. Baz leans against the doorframe, smiling.
CAMERON: SIR, HAVE YOU CHOSEN YOUR CREW YET?
BAZALGETTE: WELL DOUG, I'LL CERTAINLY WANT YOU FOR REAR-GUNNER.
CAMERON: IT'S CRITICAL SIR, YOU KNOW, FOR OUR CREW TO WORK AS ONE.
NEXT IMAGE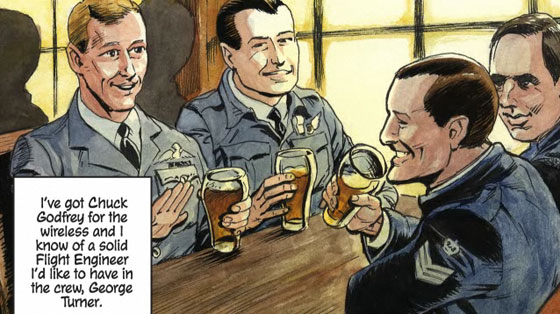 Baz sits at a table in a Scottish pub with CAMERON and two enlisted men.
BAZALGETTE: I'VE GOT CHUCK GODFREY FOR THE WIRELESS AND I KNOW OF A SOLID FLIGHT ENGINEER I'D LIKE TO HAVE IN THE CREW, GEORGE TURNER.
NEXT IMAGE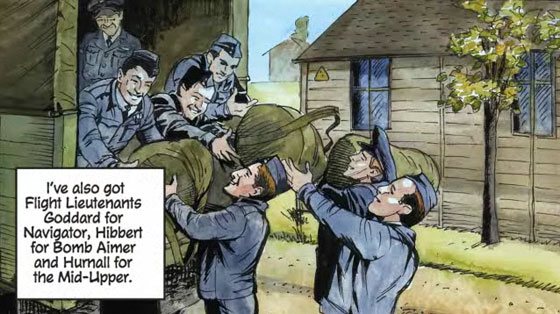 BAZALGETTE : I'VE ALSO GOT FLIGHT LIEUTENANTS GODDARD FOR NAVIGATOR, HIBBERT FOR BOMB AIMER AND HURNALL FOR THE MID-UPPER.
CAMERON: SOUNDS LIKE WE'VE GOT A GOOD CREW SKIPPER, EACH OF THEM HAS AT LEAST ONE OPERATIONAL TOUR UNDER THEIR BELT.
27 April 1944 Three enlisted men laugh as they toss their duffelbags up into the back of a transport truck for Baz, Cameron, Godfrey and Turner to stow.
NEXT IMAGE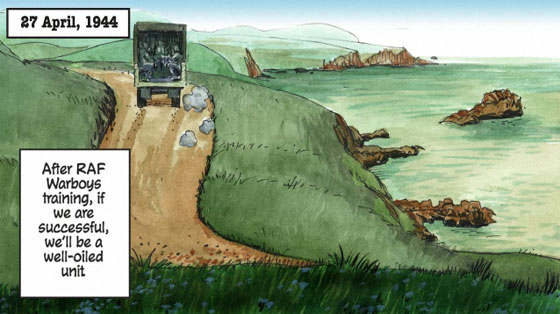 CAPTION: 27 APRIL, 1944
Springtime in Scotland, the truck drives away down the road with the seven aircrew in the back.
BAZALGETTE: AFTER RAF WARBOYS TRAINING, IF WE ARE SUCCESSFUL, WE'LL BE A WELL-OILED UNIT.
PAGE FOUR
NEXT IMAGE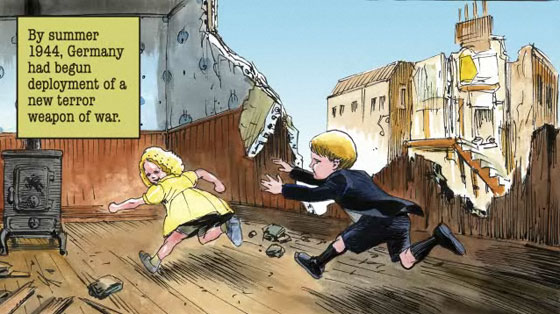 A little boy chases a little girl across the brick rubble of a destroyed row-house.
CAPTION: BY SUMMER 1944, GERMANY HAD BEGUN DEPLOYMENT OF A NEW TERROR WEAPON OF WAR.
NEXT IMAGE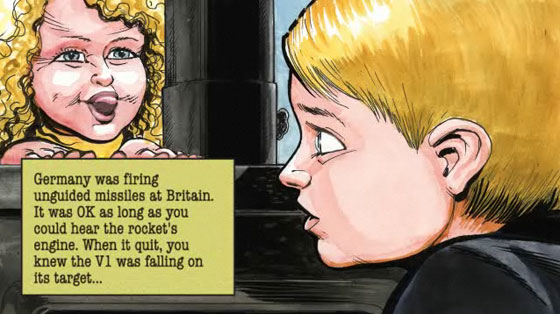 The little girl hides behind a cast-iron stove sitting askew and forlorn in the remains of a kitchen exposed to the elements. She sticks out her tongue at the boy.
CAPTION: GERMANY WAS FIRING UNGUIDED MISSILES AT BRITAIN. IT WAS OK AS LONG AS YOU COULD HEAR THE ROCKET'S ENGINE. WHEN IT QUIT, YOU KNEW THE V1 WAS FALLING ON ITS TARGET…
SFX: …PUH PUH PUH PUH PUH PUH…
NEXT IMAGE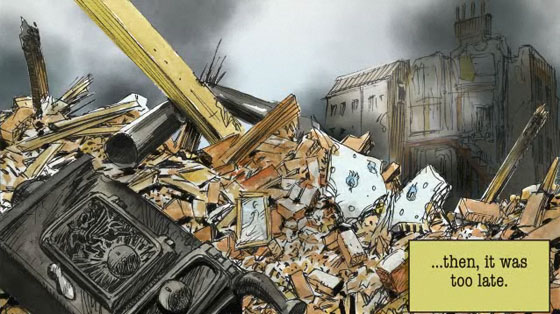 Terrible destruction. The rest of the walls of the row house are down and exposed wooden beams are aflame.
CAPTION: …THEN, IT WAS TOO LATE.
PAGE FIVE
NEXT IMAGE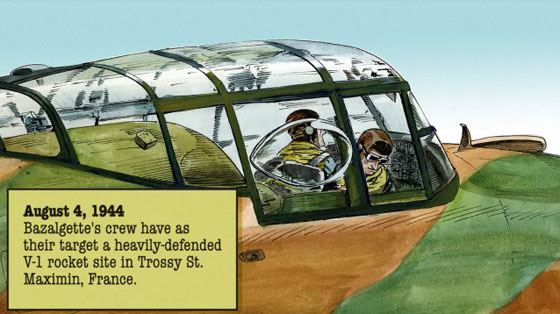 From outside the cockpit of Lancaster F2-T, Bazalgette maintains level flight on a daylight operation.
BAZALGETTE (thought): MY CREW IS BUT A SINGLE MUSICAL INSTRUMENT.
CAPTION: AUGUST 4, 1944. BAZALGETTE'S CREW HAVE AS THEIR TARGET A HEAVILY-DEFENDED V-1 ROCKET SITE IN TROSSY ST. MAXIMIN, FRANCE.
BAZALGETTE: HIBBERT, BOMB AIMER, CHECK.
SFX: BRATATATAT
HIBBERT: CHECK CAPTAIN.
BAZALGETTE: GODFREY, RADIO CHECK.
GODFREY: CHECK CAPTAIN.
BAZALGETTE: GODDARD, COURSE CHECK.
GODDARD: ON COURSE, CAPTAIN.
BAZALGETTE: MIDUPPER GUNNER… LEEDER, YOU'RE IN FOR HURNALL?
LEEDER: CHECK CAPTAIN.
SFX: BRATATATAT
BAZALGETTE: CAMERON, REAR GUNNER CHECK.
SFX: BRATATATATA…
CAMERON: CHECK CAPTAIN.
BAZALGETTE (THOUGHT): MY CREW IS BUT A SINGLE MUSICAL INSTRUMENT…
NEXT IMAGE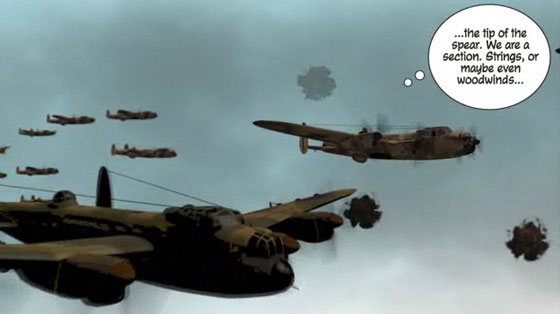 Bazalgette's Lanc is one of ten Lancasters all flying in the same direction.
CAPTION: THE PATHFINDERS ARE ELITE. THEIR TASK IS TO DROP MARKERS FOR THE REST.
NEXT IMAGE
Bazalgette's Lanc is the close to the front of a bomber stream, a river of BOMBERS that fill the sky!
BAZALGETTE (THOUGHT): THE TIP OF THE SPEAR. WE ARE A SECTION. STRINGS, OR WOODWINDS.
PAGE SIX
NEXT IMAGE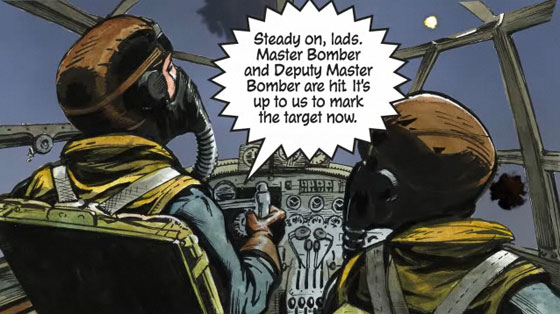 Bazalgette leans over the control column as flak blossoms in the sky visible outside the windshield.
BAZALGETTE (RADIO): STEADY ON, LADS. MASTER BOMBER AND DEPUTY MASTER BOMBER ARE HIT. IT'S UP TO US TO MARK THE TARGET NOW.
NEXT IMAGE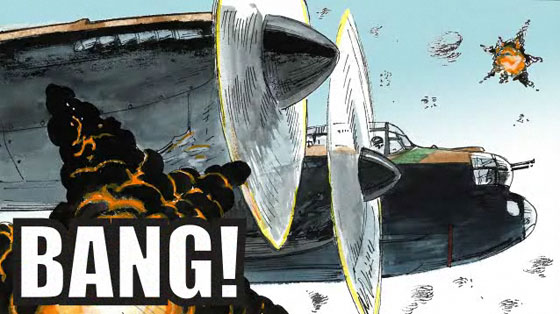 The starboard wing — a shell explodes underneath it.
SFX: BANG!
NEXT IMAGE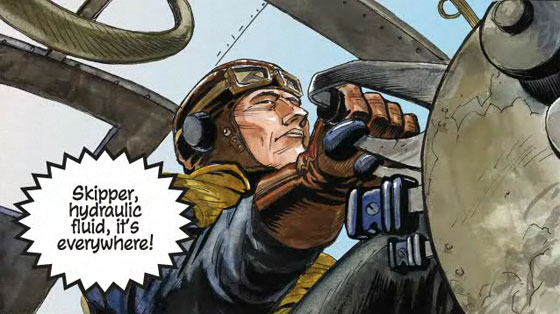 Bazalgette looks out his window at the starboard wing. THE wing is aflame AND BOTH ENGINES ARE OUT.
GODFREY (Radio): SKIPPER, HYDRAULIC FLUID, IT'S EVERYWHERE!
NEXT IMAGE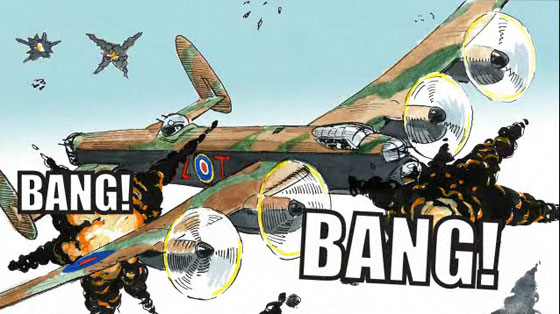 EXTERIOR SHOT OF LANC BEING ROCKED BY FLAK
SFX: BANG! BANG!
NEXT IMAGE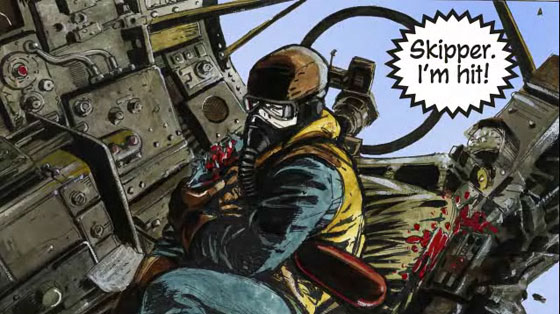 BOMB AIMER: SKIPPER. I'M HIT. IT'S UP TO YOU NOW.
Hibbert's right arm has almost been torn off at the shoulder. Turner and Godfrey manage to get him back to the restbed located behind the main spar where Chuck then administers morphine to Hibbert.
BAZALGETTE (radio): WE'RE COMING UP ON TARGET! HIBBERT'S DOWN! I'LL MARK IT AND DROP OUR BOMBS!
BAZALGETTE (thought): C'MON, BABY, C'MON… NOW!
PAGE SEVEN AND EIGHT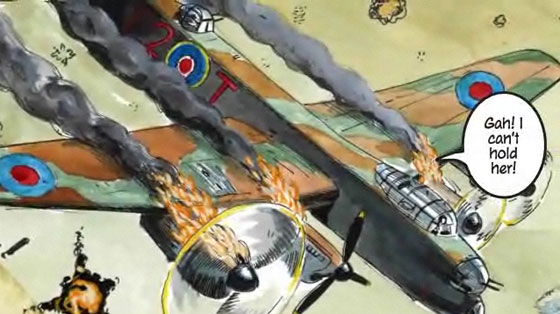 TOP DOWN VIEW OF FORMATION MOVING THROUGH FLAK AND THE BOMBING CARNAGE ON THE GROUND
Some planes are dropping their payload, others are approaching the target. The Lanc at the front is past the site, engulfed in flame and spinning. Its starboard wing looks like a herring bone. Both starboard tanks are on fire, as is the inner port engine. On the ground, the storage sheds on the rocket site of Trossy St. Maximin are an inferno, reduced to rubble. The rocket crew scattered in panic.
CAPTION: THE TIP OF THE SPEAR. AND THE SPEAR HITS THE MARK.
PAGE EIGHT
NEXT IMAGE
The loss of the payload has caused the Lanc to go into a spin.
BAZALGETTE: GAH! I CAN'T HOLD HER!
NEXT IMAGE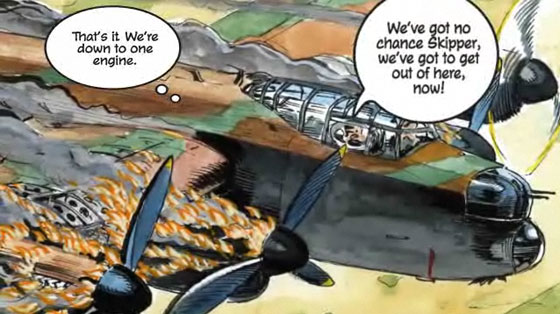 Cords in his neck straining with effort, Baz pulls back and levels out. Turner braces himself in the frame of the cockpit
Fuel from the damaged fuel tanks in the wings had been leaking into the fuselage. TURNER (radio): SKIPPER! WE GOT FUEL EVERYWHERE!
BAZALAGETTE (THOUGHT): DAMN! ONE SPARK, AND WE ARE DONE!
NEXT IMAGE
Still pulling back on the column, Bazalgette screams to the navigator.
BAZALGETTE: PLOT A COURSE TO THE NEAREST AIRFIELD!
BAZALGETTE (thought): THAT'S IT. WE'RE DOWN TO ONE ENGINE.
Turner: YOU'LL HAVE TO PUT HER DOWN, BAZ, WE'RE BADLY ON FIRE.
BAZALGETTE: EVERYONE BAIL OUT! BAIL OUT!
NEXT IMAGE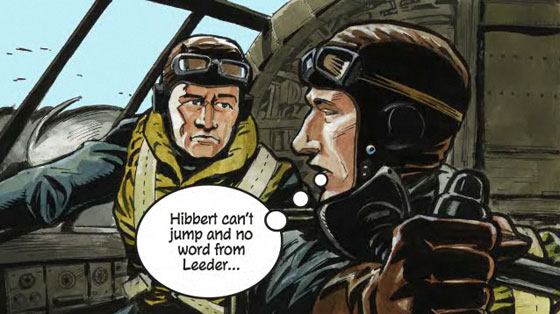 Turner stands in the doorway, parachute on.
With Hibbert unable to jump and assuming that Flight Sergeant Leeder had been overcome by the smoke and fumes Baz knows what he is going to do!
BAZALGETTE (thought): HIBBERT CAN'T JUMP AND NO WORD FROM LEEDER…
BAZALGETTE: HEY GEORGE, TIGHTEN UP MY CRASH HARNESS!
NEXT IMAGE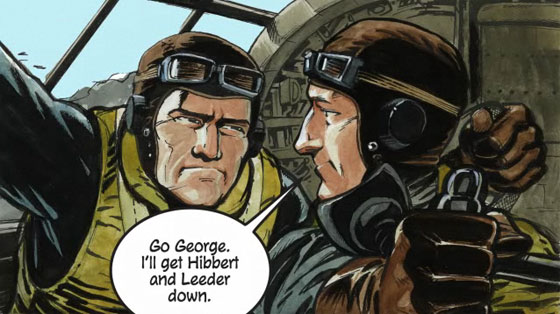 Turner tightens the harness and puts one hand on Baz's shoulder. The men stare at each other.
BAZALGETTE: GO GEORGE. I'LL GET HIBBERT AND LEEDER DOWN.
Turner reluctantly turns to leave. The men parachute off the aircraft.
PAGE NINE
NEXT IMAGE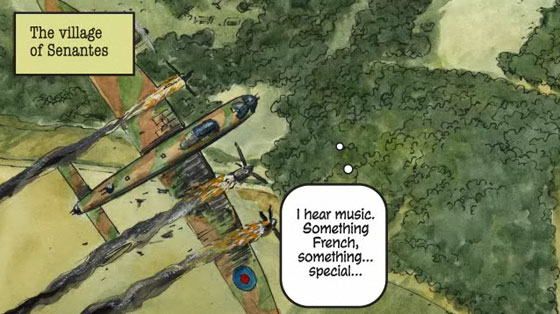 Bazalgette wrestles with the controls and swerves to avoid a small village.
BAZALGETTE (thought): I HEAR MUSIC. SOMETHING FRENCH, SOMETHING… SPECIAL…
CAPTION: THE VILLAGE OF SENANTES
NEXT IMAGE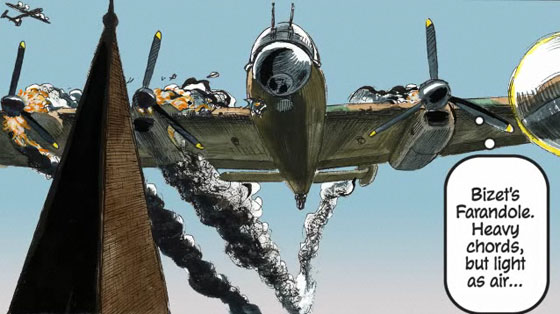 A field opens up low ahead of him.
BAZALGETTE (THOUGHT): BIZET'S FARANDOLE. HEAVY CHORDS, BUT LIGHT AS AIR…
NEXT IMAGE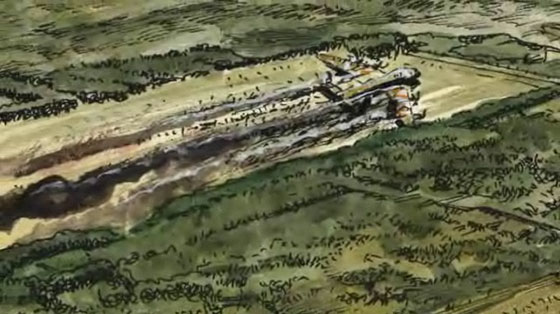 The Lancaster crash-lands with its wheels up, slides down the field, flame pouring over the wing, wrapping around the fuselage like the fingers of a fist.
BAZALGETTE (thought): THEN BUILDING, BUILDING…
BAZALGETTE: FELLAS, WE'RE DOWN. HANG TIGHT WE'RE GOING TO MAKE IT AND I'LL–
NEXT IMAGE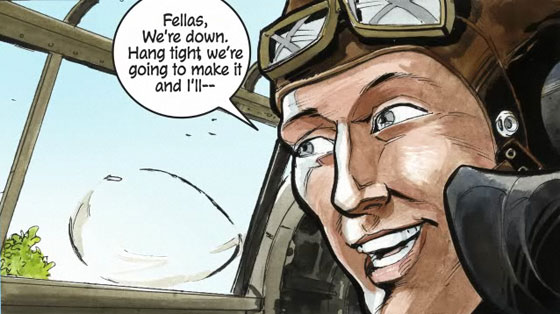 Baz's Lanc hits a ditch in the field, buckling and shredding in the explosion.
NEXT IMAGE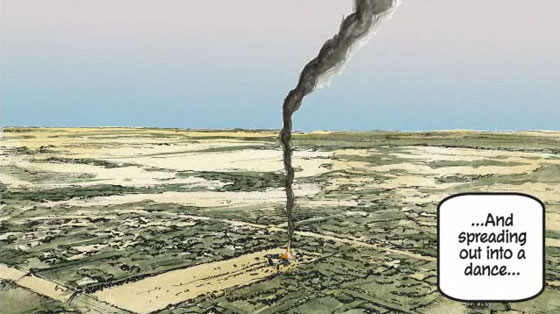 We follow the smoke up, up into the starry sky.
BAZALGETTE (CAP): AND SPREADING OUT INTO A DANCE…
NEXT IMAGE
Higher now, the smoke and cloud clear, the sky opens up on a world where men hurry and fight and make war.
Credits
Director and Artist
Curt Shoultz
Animator
Derek Ford
Sound Designer, Recorder & Mixer
Scott Enns
Sound Supervisor
Scott Enns
Production Assistance
Nikki Gislason
Inukshuk Tagalik
Writer
Ryan Fitzgerald
Grateful acknowledgement for support to Assiniboine Community College
Visual inspiration from Virtual Lancaster, The Lancaster Museum, Nanton…
and many Youtube clips…
Thanks for advice and encouragement to Dan Choy, John Jameson