William Bishop
Script
William Bishop "The Lone Hawk"
SUMMARY
With dozens of victories in the air, Billy Bishop's Commanders had to decide whether to let the ace continue to rack up numbers or protect the popular hero of the Air Force. When he was eventually called away from the front, Bishop had 72 victories to his name, including the four downed planes that helped him earn the Victoria Cross.
Before he was killed in April 1917, fellow RFC flying ace Albert Ball came up with a plan for the two men to attack a German aerodrome. Bishop carried out the mission by himself in memory of his downed fellow ace, resulting in his Victoria Cross action.
PAGE ONE
NEXT IMAGE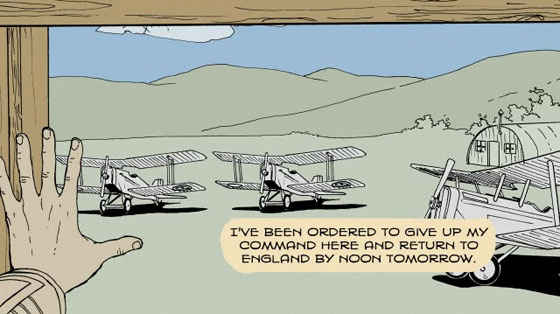 A dark office on a military airfield. Light from windows penetrates the darkness here and there. Major William Bishop (24) sits, brooding, a draft of a letter on the desk in front of him.
CAPTION: JUNE 18, 1918.
CAPTION: I'VE BEEN ORDERED TO GIVE UP MY COMMAND HERE AND RETURN TO ENGLAND BY NOON TOMORROW.
NEXT IMAGE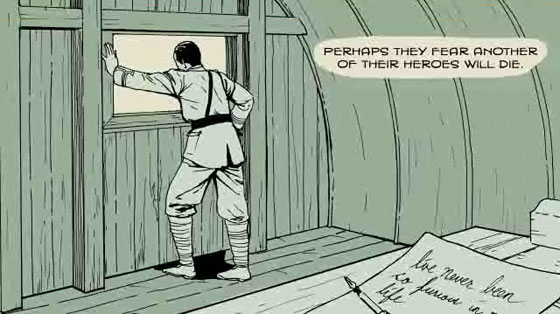 Bishop stands by a window, staring out at a SE5 (plane) that has just taken off in the airfield outside.
CAPTION: PERHAPS THEY FEAR ANOTHER OF THEIR HEROES WILL DIE.
NEXT IMAGE
Close-up on letter: Only the following words have been written and the pen lays on the paper: LETTER: I'VE NEVER BEEN SO FURIOUS IN MY LIFE.
NEXT IMAGE
CAPTION: I HAVE A FUNNY FEELING I WILL NOT BE BACK HERE AGAIN.
NEXT IMAGE
CAPTION: MEMORIES OF MY TIME HERE TAKE ME BACK TO A YEAR EARLIER.
PAGE TWO
NEXT IMAGE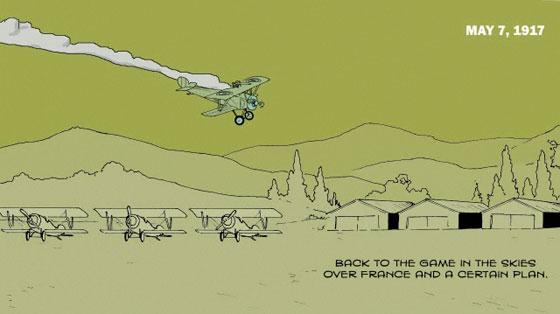 A blue-nosed bullet-riddled Nieuport 17 fighter plane trails smoke as it approaches an airfield.
CAPTION: MAY 7, 1917
NEXT IMAGE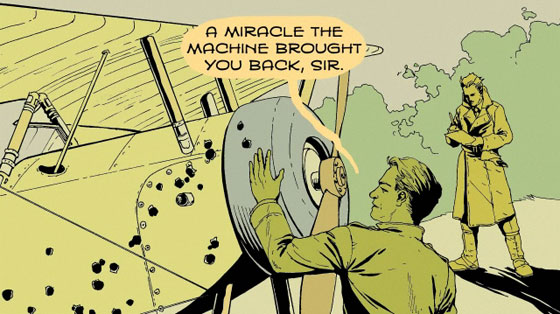 Bishop (23), the pilot of the riddled plane, writes in a ledger near his plane that is parked in background, a mechanic near it and turned to Bishop with an incredulous look.
MECHANIC: A MIRACLE THE MACHINE BROUGHT YOU BACK, SIR.
BISHOP: AN HOUR AND A HALF UP THERE WITH FRITZ IS ENOUGH TIME TO GET INTO TROUBLE.
MECHANIC: MAYBE YOU SHOULD CONSIDER SURPRISE ATTACKS, SIR.
NEXT IMAGE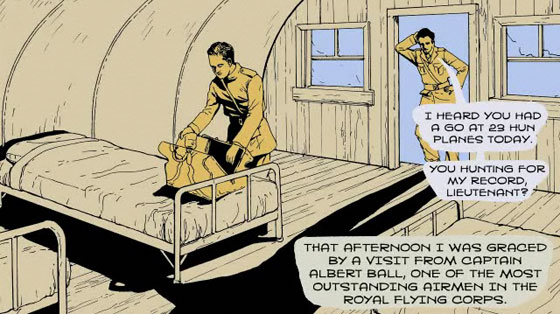 Bishop has just changed into a fresh uniform for a leave from the base. Lieutenant (temporary Captain) Albert Ball (20) is in the doorway to the barracks.
CAPTION: THAT AFTERNOON I WAS GRACED BY A VISIT FROM CAPTAIN ALBERT BALL, ONE OF THE MOST OUTSTANDING AIRMEN IN THE ROYAL FLYING CORPS.
BALL: I HEARD YOU HAD A GO AT 23 HUN PLANES TODAY. YOU HUNTING FOR MY RECORD, BILLY?
BISHOP: I ONLY BROUGHT DOWN TWO.
NEXT IMAGE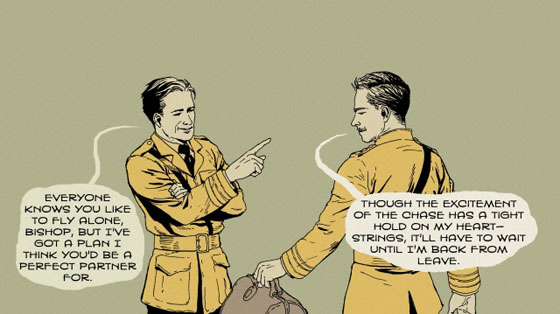 Ball is closer to Bishop who now has a travel bag in one hand.
BISHOP: THOUGH THE EXCITEMENT OF THE CHASE HAS A TIGHT HOLD ON MY HEART – IT'LL HAVE TO WAIT UNTIL I'M BACK FROM LEAVE.
BALL: DAWN ATTACK ON A GERMAN AERODROME. WE HIT THEM BEFORE THEY'VE GOT THEIR BREAKFAST IN FRONT OF THEM.
NEXT IMAGE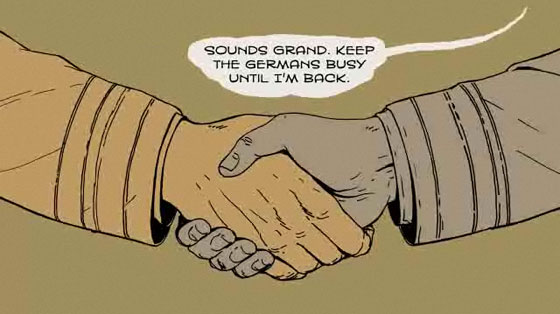 They shake hands.
BISHOP: SOUNDS GRAND. KEEP THE GERMANS BUSY UNTIL I'M BACK.
BALL: BUT YOU KNOW I FEEL ROTTEN TO SEE THEM GO DOWN.
PAGE THREE
NEXT IMAGE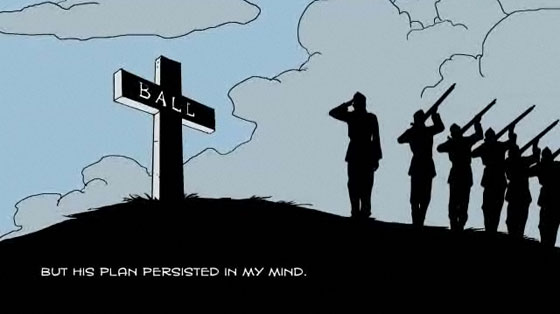 CAPTION: THE SHORT REST IN ENGLAND HAD QUIETED MY NERVES AND I WAS GLAD TO BE BACK WITH MY SQUADRON. BUT SAD NEWS AWAITED ME. WHILE I WAS AWAY IN ENGLAND, ALBERT HAD BEEN KILLED IN ACTION.
A silhouette of Ball's funeral proceedings.
CAPTION: I MADE UP MY MIND THEN TO CARRY OUT THE ATTACK ON THE AERODROME ALONE.
PAGE FOUR
NEXT IMAGE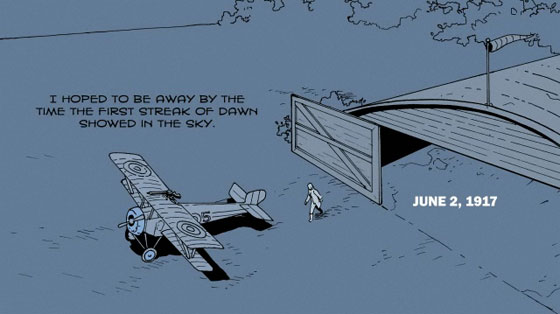 Heavy clouds hang over Filescamp Farm airfield at 4 a.m., sprinkling the airfield with a light rain. A single plane – a Nieuport – sits in the field, engine purring and ready for its pilot. A mechanic is checking the underbelly of the fuselage. A pilot is approaching from the distance.
CAPTION: JUNE, 1917. FILESCAMP FARM.
CAPTION: I HOPED TO BE AWAY BY THE TIME THE FIRST STREAK OF DAWN SHOWED IN THE SKY.
NEXT IMAGE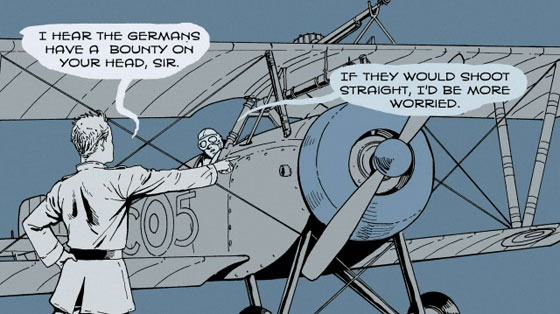 Bishop pulls on his gloves in his Nieuport fighter. The mechanic stands by the wing, pointing at the blue nose of the plane.
MECHANIC: I HEAR THE GERMANS HAVE A BOUNTY ON YOUR HEAD.
BISHOP: IF THEY WOULD SHOOT STRAIGHT, I'D BE MORE WORRIED.
MECHANIC: BRANDING YOUR MACHINE WITH THAT BLUE NOSE OF YOURS SHOULD HELP THEM.
NEXT IMAGE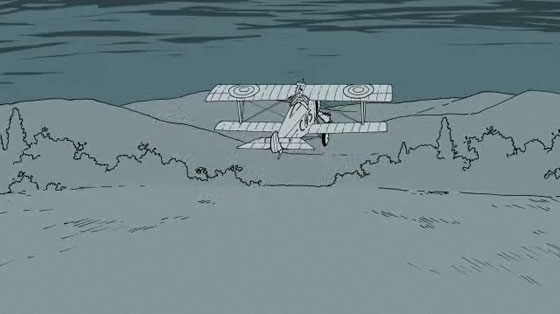 Bishop's Nieuport climbs upward into the overcast, pre-dawn sky. Rain clouds threaten from the distance.
NEXT IMAGE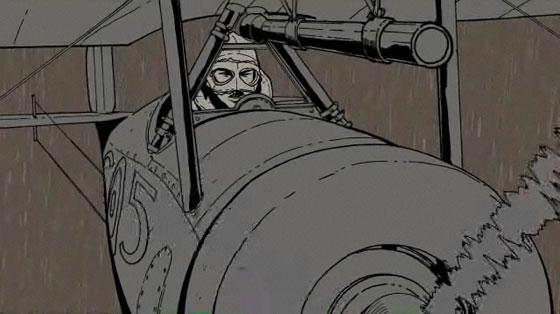 Closer on the plane, a drizzle turning to rain. Bishop can barely see as he squints to see through the windshield.
PAGE FIVE
NEXT IMAGE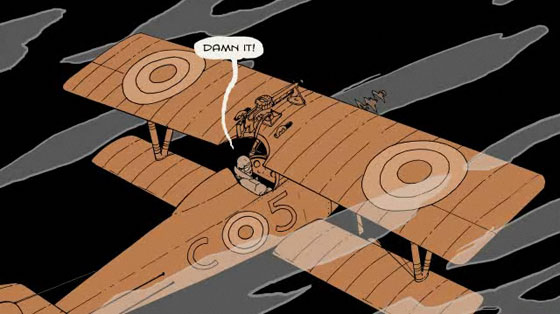 The clouds are a little higher now, but it is still somewhat misty. Bishop looks around as if looking lost.
BISHOP: DAMN IT!
CAPTION: THE WEATHER WASN'T DOING ME ANY FAVOURS THAT DAY.
NEXT IMAGE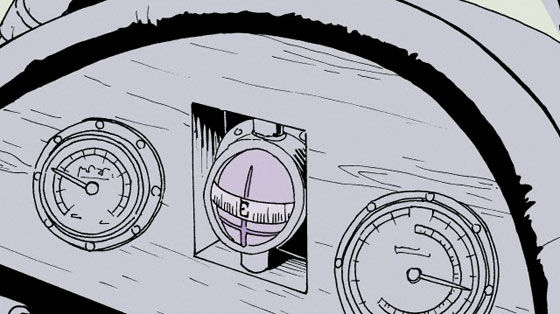 The plane's compass reads East as Bishop clears his flight goggles of water.
NEXT IMAGE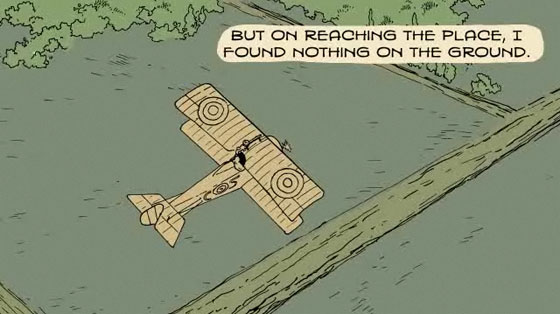 Eagle-eye view of Estourmel aerodrome. No activity.
CAPTION: BUT ON REACHING THE PLACE, I FOUND NOTHING ON THE GROUND.
NEXT IMAGE
Bishop pulls right and back on his flight stick to change course.
CAPTION: I WAS IN A RATHER BAD TEMPER AT HAVING THE PLAN FALL THROUGH AND SO I SET OUT TO FIND ANOTHER TARGET.
CAPTION: AS I WAS JUST TURNING TO GO HOME, I SAW ANOTHER AERODROME.
NEXT IMAGE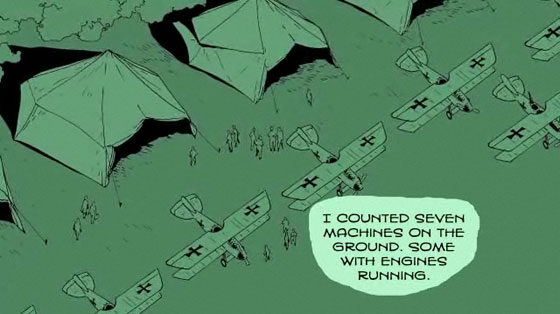 Bishop's Nieuport in steady flight at a good altitude. Bishop looks down, a smile on his face.
CAPTION: I COUNTED SEVEN MACHINES ON THE GROUND. SOME WITH ENGINES RUNNING.
PAGE SIX
NEXT IMAGE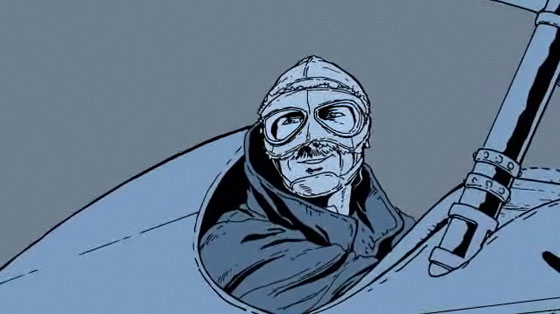 Aerodrome near Esnes, France. Shadowy shapes of hangars and seven Albatros Scout planes and an LVG two-seater plane.
NEXT IMAGE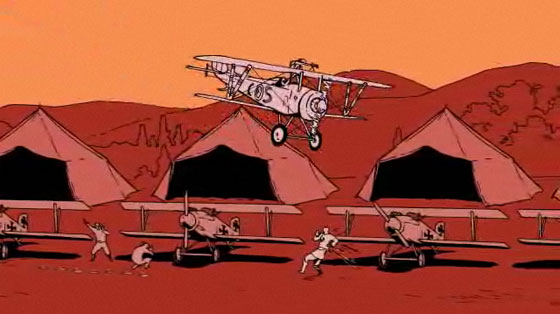 As Bishop's Nieuport flies straight across the aerodrome field, his machine-gun's muzzle is afire as he rakes the grounded planes with great success.
SFX: ACK – ACK – ACK!
PAGE SEVEN
NEXT IMAGE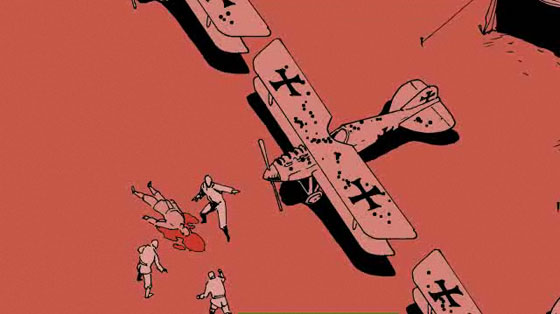 As Bishop's Nieuport reaches the edge of the airfield, he pulls up in a climbing turn.
NEXT IMAGE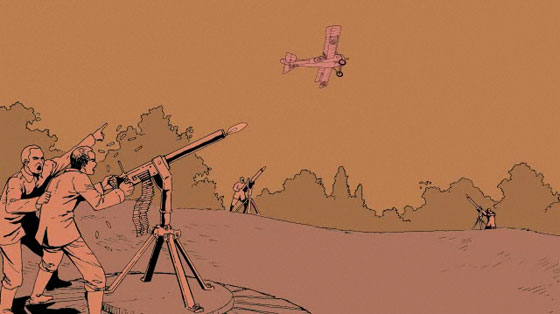 On the ground below, three machine-guns in various positions around the airfield fire up into the sky.
SFX: RATATATATA!
NEXT IMAGE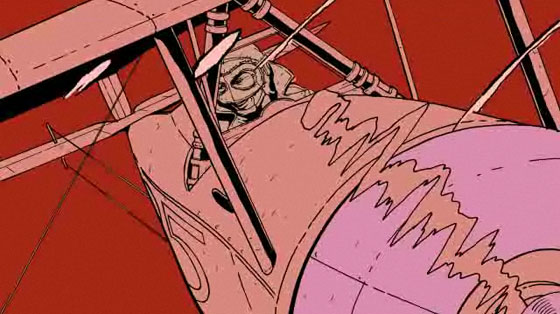 As Bishop looks back down at the Aerodrome, tracers whizz towards, by and past his Nieuport. A good number of the bullets hit his plane's wingtips.
CAPTION: THE GUNNERS WERE RIGHT ON TARGET TODAY.
PAGE EIGHT
NEXT IMAGE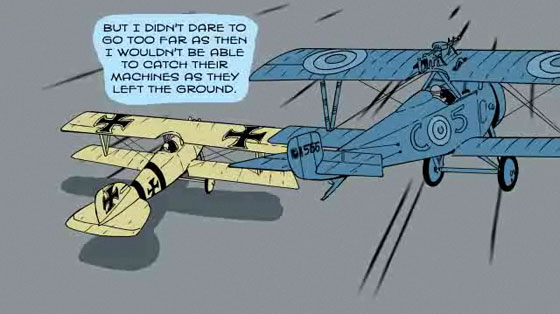 A German Albatross scout plane is taxiing down the field as Bishop's Nieuport dives towards it.
CAPTION: BUT I DIDN'T DARE TO GO TOO FAR AS THEN I WOULDN'T BE ABLE TO CATCH THEIR MACHINES AS THEY LEFT THE GROUND.
NEXT IMAGE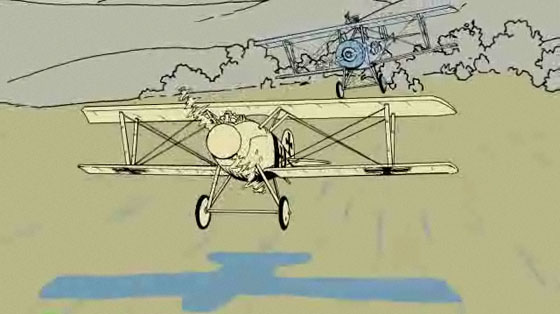 Bishop fires a machine-gun burst from close range, hitting the Albatros several times just as its wheels are barely off the ground.
NEXT IMAGE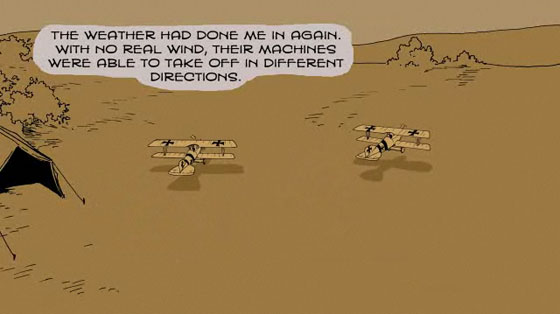 CAPTION: I TURNED BACK TO THE AERODROME, BUT MY HEART SANK.
Two more Albatrosses cross just as they are taking off in different directions.
CAPTION: THE WEATHER HAD DONE ME IN AGAIN. WITH NO REAL WIND, THEIR MACHINES WERE ABLE TO TAKE OFF IN DIFFERENT DIRECTIONS.
NEXT IMAGE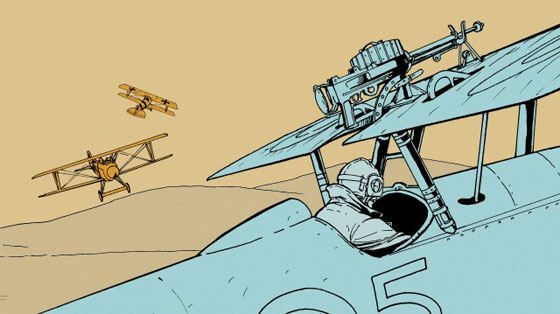 In the background, one of the Albatroses flies away from the field and remains at a safe distance as the other one heads straight for Bishop and takes a fast shot.
SFX: ACK – ACK! ACK – ACK!
Bishop grins, craning his neck to see his quarry.
PAGE NINE
NEXT IMAGE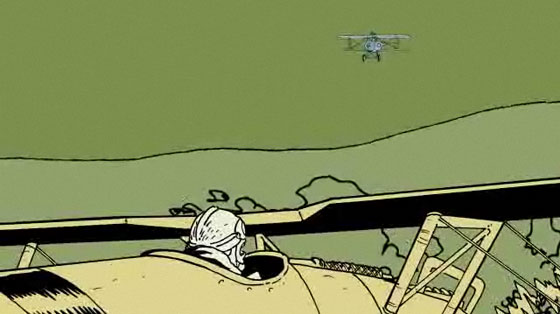 Bishop has just pulled out of a hard turn and bears down from above on the Albatross, its pilot looking nervous as Bishop opens fire.
SFX: ACK – ACK – ACK!
NEXT IMAGE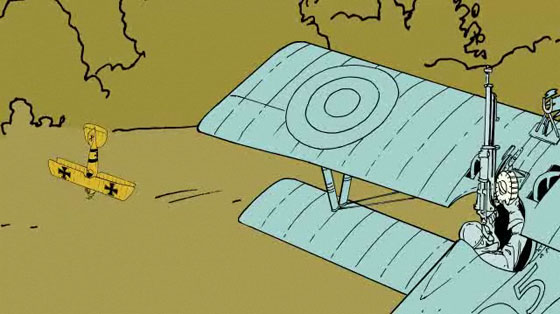 The German pilot avoids being hit but loses control of his Albatross. The plane is at the beginning of a fateful spin.
NEXT IMAGE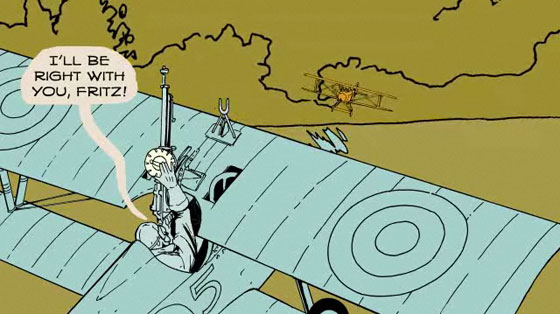 As the Albatross spins towards the ground, out of control, Bishop has his hand on his machine-gun drum as he sees another Albatross closing in on him from the background.
BISHOP: I'LL BE RIGHT WITH YOU, FRITZ!
NEXT IMAGE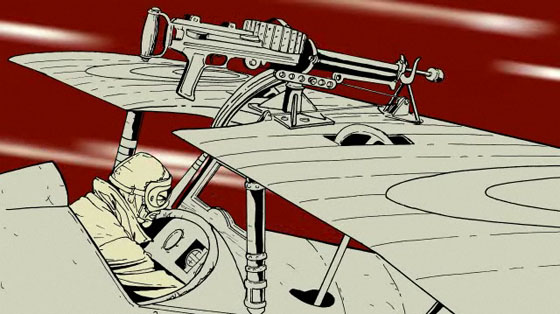 Bishop changes drums, heading straight at the Albatross that is now dangerously close and climbing towards him.
PAGE TEN
NEXT IMAGE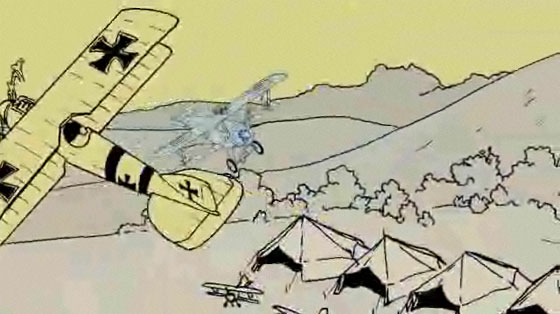 Bishop has his Nieuport's nose down as he dives at the Albatross.
NEXT IMAGE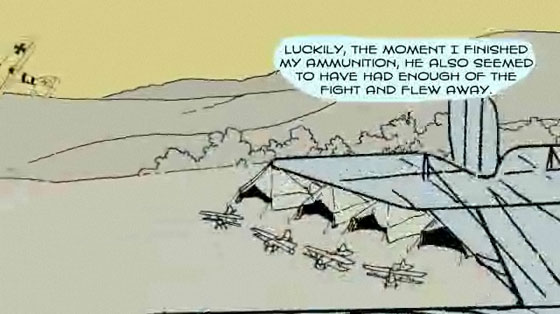 Biashop fires and fires, emptying his machine-gun drum at the Albatross. He grimaces, having lost some of his eagerness.
SFX: ACK – ACK -ACK! ACK – ACK -ACK!
NEXT IMAGE
Bishop's machine-gun clicks empty.
SFX: CLICK!
NEXT IMAGE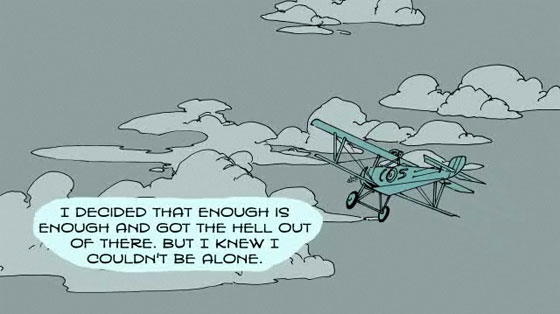 Bishop – in his Nieuport – glances about worriedly, trying to see pursuers as he heads away from the Aerodrom.
CAPTION: I DECIDED THAT ENOUGH IS ENOUGH AND GOT THE HELL OUT OF THERE. BUT I KNEW I COULDN'T BE ALONE.
PAGE ELEVEN
NEXT IMAGE
Bishop's Nieuport flies through the sky. Seemingly alone.
NEXT IMAGE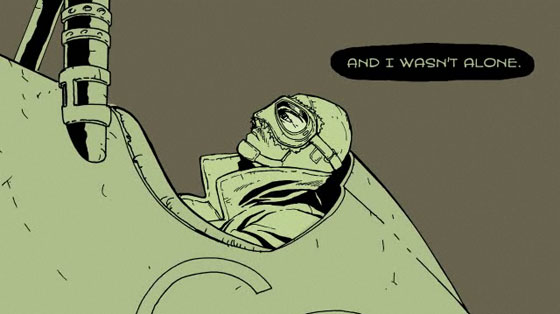 Bishop's eyes are locked on something above him.
CAPTION: AND I WASN'T ALONE.
NEXT IMAGE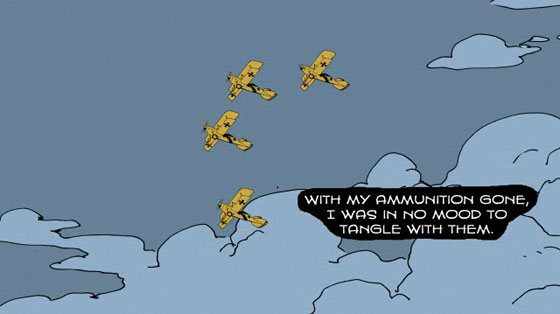 Looking at them from below, four German scout planes fly high in the clouds, ominous and threatening.
CAPTION: WITH MY AMMUNITION GONE, I WAS IN NO MOOD TO TANGLE WITH THEM.
NEXT IMAGE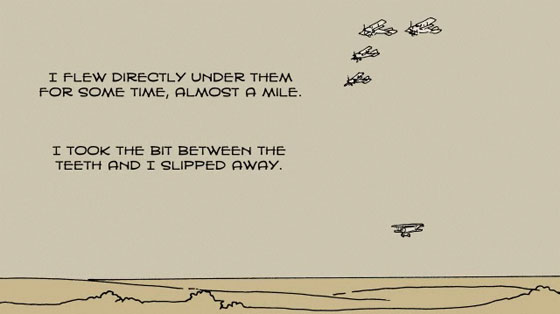 Looking at the big picture, Bishop flies directly under the four German scouts.
CAPTION: I FLEW DIRECTLY UNDER THEM FOR SOME TIME, ALMOST A MILE. I TOOK THE BIT BETWEEN THE TEETH AND SLIPPED AWAY.
PAGE TWELVE
NEXT IMAGE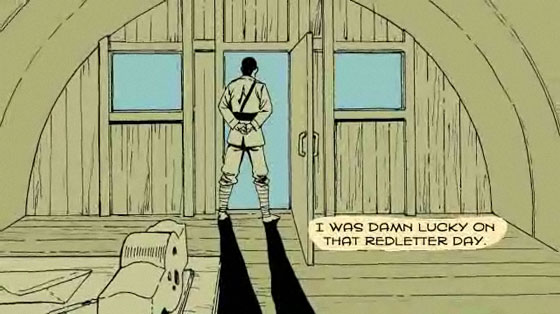 Major Bishop stands in the dark office, but the door is now open and he stares out. The letter (that he had open on his desk on the first page) is sealed on his desk, and on top of it a Victoria Cross medal in its open box.
CAPTION: I WAS DAMN LUCKY ON THAT REDLETTER DAY.
NEXT IMAGE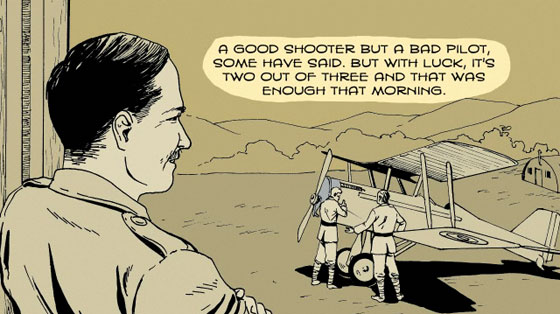 Closer on Bishop, who looks stoic, and much more vigorous than on the opening page.
CAPTION: A GOOD SHOOTER BUT A BAD PILOT, SOME HAVE SAID. BUT WITH LUCK, IT'S TWO OUT OF THREE AND THAT WAS ENOUGH THAT MORNING.
NEXT IMAGE
Bishop watches the pilots under his command on the airfield, preparing for flight. A plane – A SE5 with a nose painted blue – off to the side almost looks to beckon him.
CAPTION: LET ME BE PART OF THE GAME UP IN THE SKIES FOR ONE MORE DAY.
NEXT IMAGE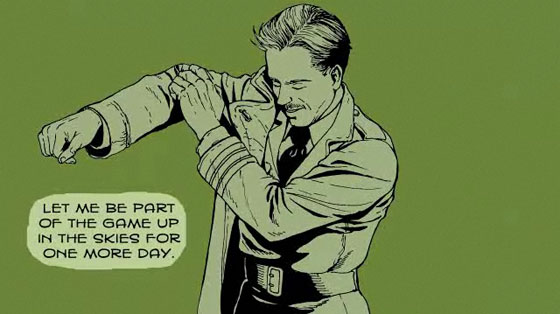 Bishop grins ear to ear, pulling on his flight vest, as he strides towards the SE5 – his plane. A young pilot smiles and salutes to the side.
CAPTION: WILLIAM AVERY BISHOP WAS OFFICIALLY CREDITED WITH 72 AERIAL VICTORIES, FIVE OF THEM ON THIS, HIS LAST DAY IN COMBAT.
CAPTION: HE WAS AWARDED THE VICTORIA CROSS FOR HIS DARING RAID ON THE GERMAN AERODROME.
Credits
| | |
| --- | --- |
| Artist | Scott Henderson |
| Sound Designer, Recorder & Mixer | Scott Enns |
| Sound Supervisor | Scott Enns |
| Writer | Timo Puolitaipale |