Robert Gray
Script
Robert Gray "Hammy"
SUMMARY
Robert Hampton Gray served for four years before seeing active combat in the Second World War, but his contribution to the Pacific campaign is a story for the ages. On August 9 – shortly after an atomic bomb was dropped on Hiroshima and only days before the end of the war – Gray and fellow airmen engaged a Japanese fleet in Onagawa Bay. Gray led the charge, taking heavy enemy fire while successfully hitting his target. His damaged Corsair sent him careening into the ocean, never to be found.
In letters to his parents in August 1945, Gray detailed much of his time fighting the Japanese. He was the last Canadian killed in action during the Second World War.
PAGE ONE
NEXT IMAGE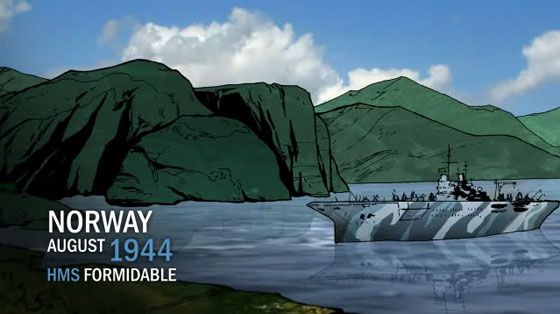 HMS Formidable in the North Sea off the coast of Norway.
CAPTION: NORWAY. AUGUST 1944. HMS FORMIDABLE.
NEXT IMAGE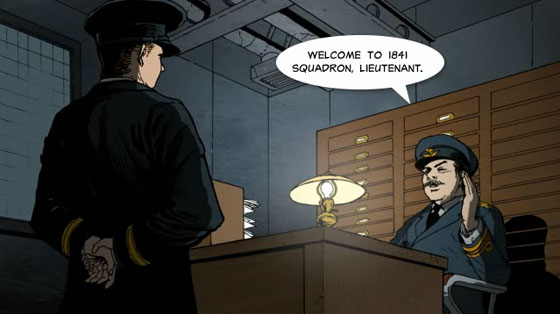 An officer's office inside the HMS Formidable. A British Major sits, interviewing Gray.
BRITISH MAJOR: WELCOME TO 1841 SQUADRON, LIEUTENANT.
GRAY: GOOD TO BE HERE, SIR.
BRITISH MAJOR: GLAD TO FINALLY HAVE A NEW SENIOR PILOT AGAIN. TRAINING'S OVER, THIS IS THE REAL THING. YOU READY, SON?
GRAY: YES, SIR.
NEXT IMAGE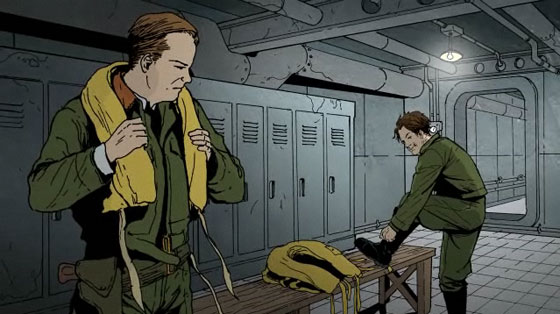 A pilot and Gray getting into flight uniform.
PILOT: WE LOST OUR FIRST TWO SENIOR PILOTS OVER THE PAST COUPLE MONTHS. HE DIDN'T TELL YOU THAT?
GRAY: NO.
NEXT IMAGE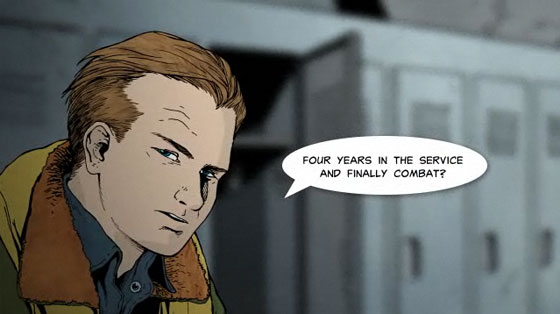 Pilot laughs. Gray doesn't see the humour.
PILOT: ONE WAS SHOT DOWN AND THE OTHER CRASH LANDED IN NORWAY. BOTH NOW PRISONERS OF WAR. YOU STILL HAPPY TO BE HERE?
GRAY: FOUR YEARS IN THE SERVICE AND FINALLY COMBAT? YOU BET.
PILOT: LET'S SEE WHAT THE TIRPITZ HAS TO SAY ABOUT THAT.
GRAY: TIRPITZ?
PAGE THREE
NEXT IMAGE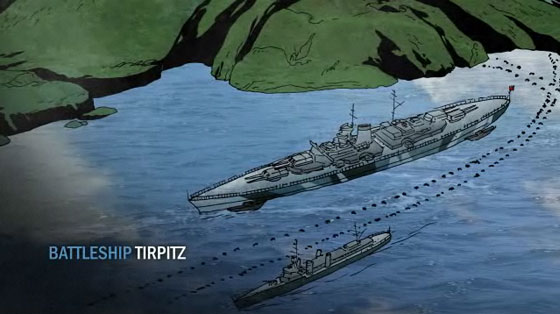 German battleship Tirpitz, a 42,500-ton vessel holed up in a Norwegian fjord.
CAPTION: BATTLESHIP TIRPITZ.
NEXT IMAGE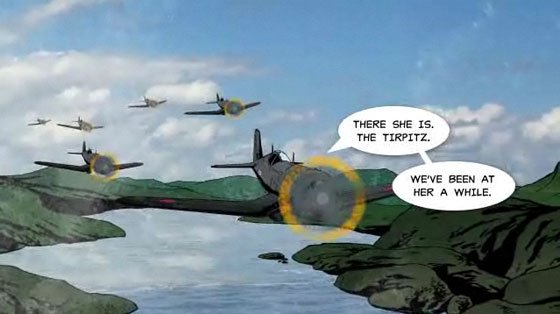 Gray's flight of Corsairs heading towards the Norwegian coastline.
PILOT: THERE SHE IS. THE TIRPITZ. WE'VE BEEN AT HER A WHILE.
NEXT IMAGE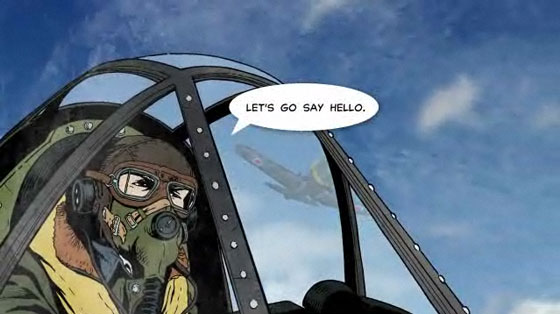 Gray, in his Corsair, looks at the heavily armoured ship in the distance.
GRAY: LET'S GO SAY HELLO.
PAGE FOUR
NEXT IMAGE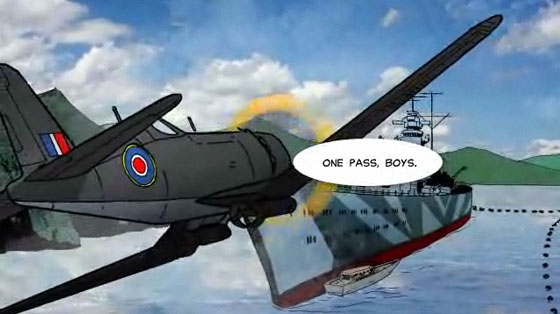 Gray's Corsair leads his flight in a daring low-level strike against ships protecting the Tirpitz.
GRAY: ONE PASS, BOYS.
NEXT IMAGE
Gray's Corsair pulls out of the dive as he looks back to see that he's done little damage.
GRAY: DAMN IT!
NEXT IMAGE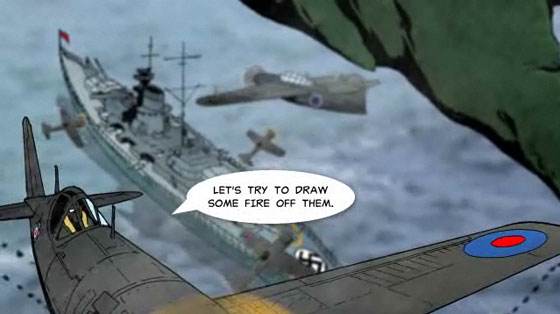 A pilot in a Corsair that follows Gray's plane. In the background, a Barracuda dive-bomber is in flames and pulling away as another Barracuda presses in an attack against anti-aircraft fire.
PILOT: SIR, THE BARRACUDAS ARE GETTING IT GOOD.
GRAY: LET'S TRY TO DRAW SOME FIRE OFF THEM. CONVERGE ON THE AIRFIELD AT YOUR TWO O'CLOCK LOW. 3000 METERS DISTANT.
PAGE FIVE
NEXT IMAGE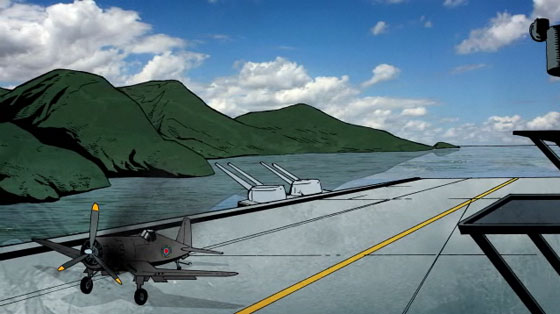 Corsairs limping back to the HMS Formidable. A smoking Corsair has just landed on the carrier as on-deck personnel rush over to help.
NEXT IMAGE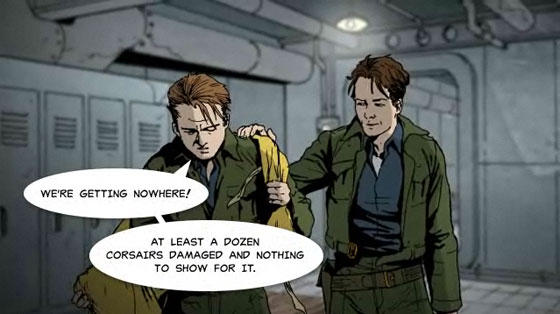 Inside the HMS Formidable: Gray is taking off his flight suit. He's disgusted. The same laughing pilot from earlier is with him.
GRAY: WE'RE GETTING NOWHERE! AT LEAST A DOZEN CORSAIRS DAMAGED AND NOTHING TO SHOW FOR IT.
NEXT IMAGE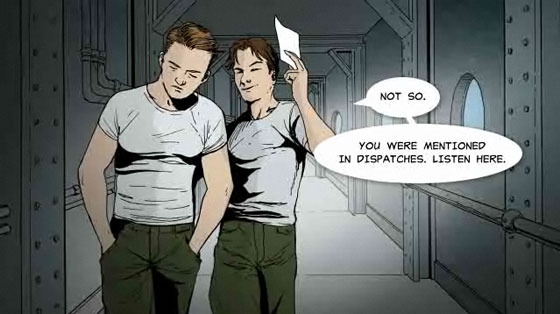 Gray and the pilot walk down a narrow corridor.
PILOT: NOT SO. YOU WERE MENTIONED IN DESPATCHES. LISTEN HERE.
NEXT IMAGE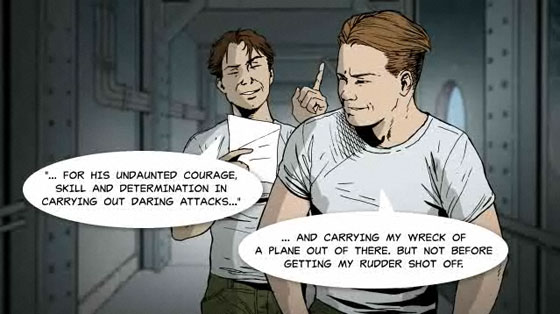 The pilot reads from a loose sheet of paper. Gray pokes fun at what he hears.
PILOT: "…FOR HIS UNDAUNTED COURAGE, SKILL AND DETERMINATION IN CARRYING OUT DARING ATTACKS…"
GRAY: … AND CARRYING MY WRECK OF A PLANE OUT OF THERE. BUT NOT BEFORE GETTING MY RUDDER SHOT OFF.
PAGE SIX
NEXT IMAGE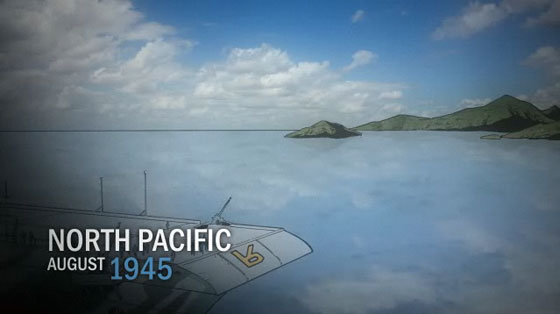 HMS Formidable in the Pacific, near Japan.
CAPTION: North Pacific August 1945
PAGE SEVEN
NEXT IMAGE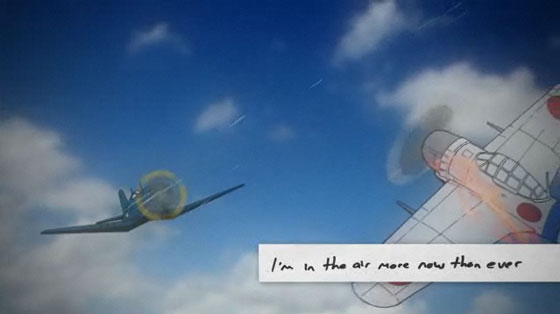 Gray's Corsair in a dogfight with a Japanese Zero.
CAPTION: DEAR MOTHER AND FATHER. I'M IN THE PACIFIC NOW. IT'S BEAUTIFUL HERE.
NEXT IMAGE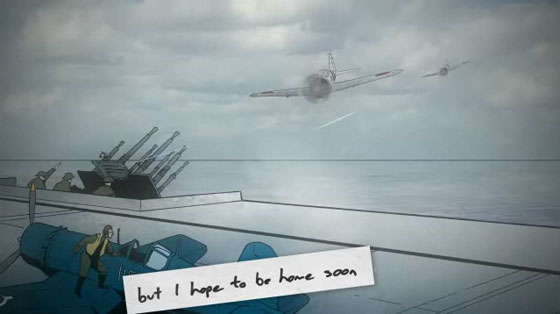 A British destroyer's guns fire at an incoming Kamikaze. The flak is heavy but the Zero dives in straight and true.
CAPTION: I'M IN THE AIR MORE NOW THAN EVER. IT'S FAIRLY HARD FLYING, BUT NOT TO WORRY.
NEXT IMAGE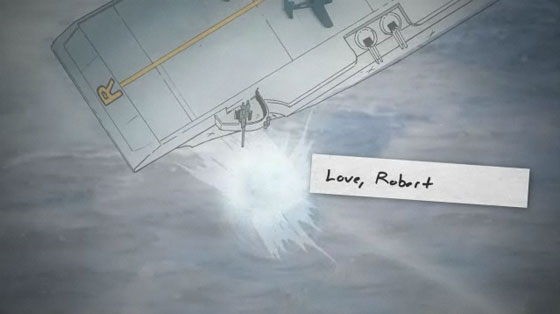 Gray dives away from his plane that he has just landed on the HMS Formidable as a flaming Kamikaze Zero slams into the water too close to the ship.
CAPTION: THE JAPS ARE A GOOD ENEMY AND ARE KEEPING US BUSY, BUT I HOPE TO BE HOME SOON. LOVE, ROBERT.
PAGE EIGHT
NEXT IMAGE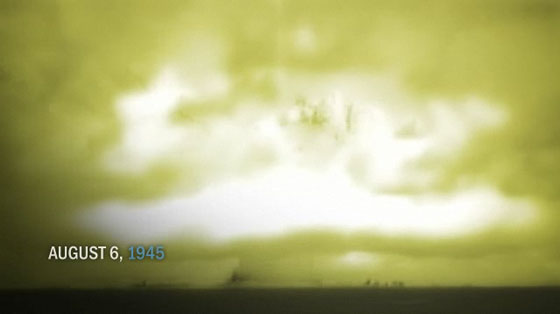 Early morning. A mushroom cloud from the atomic bomb that has just been dropped on Hiroshima.
CAPTION (TOP): AUGUST 6, 1945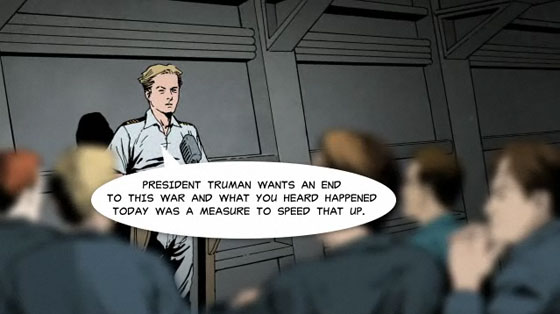 Captain Ruck-Keene speaking to squadron commanders in a space in the HMS Formidable.
RUCK-KEENE: PRESIDENT TRUMAN WANTS AN END TO THIS WAR AND WHAT YOU HEARD HAPPENED TODAY WAS A MEASURE TO SPEED THAT UP. I WANT ALL PILOTS TO AVOID TAKING RISKS. MINIMIZE FLIGHT HAZARDS AND TAKE ONLY ONE RUN AT ANY ONE TARGET. BRIEF EACH AND EVERY PILOT ON THIS PROCEDURE.
PAGE NINE
NEXT IMAGE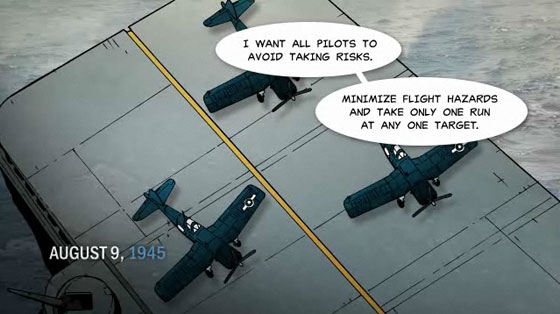 Gray is in the cockpit of his Vought Corsair, his plane's engine running, waiting to take off.
CAPTION: AUGUST 9, 1945
GRAY: COME ON FELLAS, LET'S GET 'ER TURNED AROUND.
NEXT IMAGE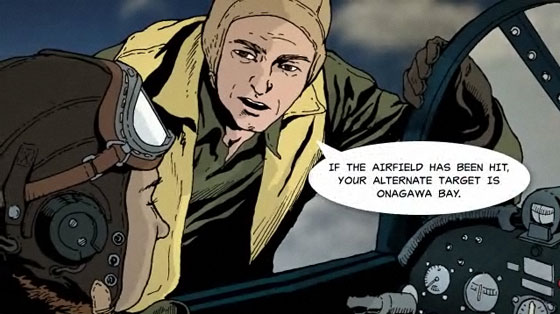 A crewman has climbed by his cockpit. The crewman slips the paper in to Gray.
CREWMAN: THERE'S BEEN A CHANGE, SIR. IF THE AIRFIELD HAS BEEN HIT, YOUR ALTERNATE TARGET IS ONAGAWA BAY.
PAGE TEN
NEXT IMAGE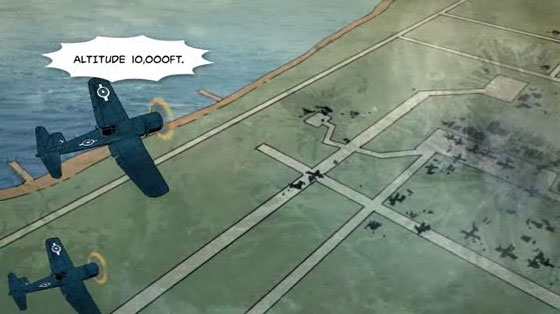 Gray's two flights of eight Corsairs at 10,000 feet.
GRAY: ALTITUDE 10,000 FT.
Below, the airfield is already heavily damaged by bombs.
GRAY: LOOKS LIKE WE WERE BEAT TO THE PUNCH. CHANGING TARGET. LET'S TAKE THE SHIPS IN ONAGAWA BAY.
NEXT IMAGE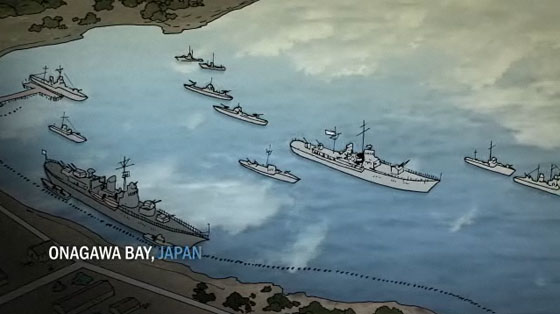 Below is the mainland coast north of Kinksan. Several major ships are moored in Onagawa Bay, including the ocean escort ship Amakuza, two minesweepers, a training ship, small submarine-chasers and shipping vessels.
CAPTION: ONAGAWA BAY, JAPAN
NEXT IMAGE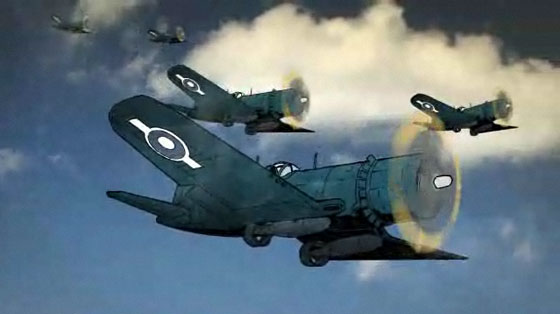 The Corsairs race down the harbour valley to the harbour mouth. With their inverted gull wings, they look lethal. A curtain of intense fire envelops the Corsairs. Anti-aircraft fire – cannon and machine gun – rains in from below from both the ships and the shore batteries.
PAGE ELEVEN
NEXT IMAGE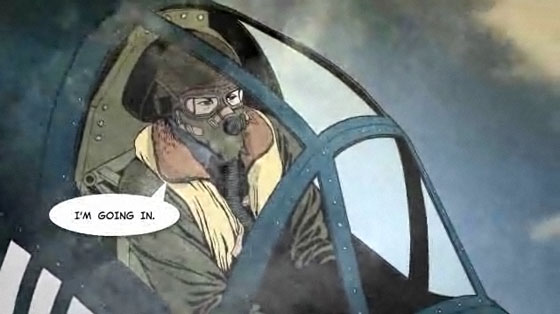 Gray levels his plane and takes aim on the Amakuza which is anchored in the middle of the harbour, as a cone of fire zeroes in on him. The other Corsairs follow him in, every single one.
GRAY: I'M GOING IN.
YOUNG PILOT: WE'RE WITH YOU, SIR.
NEXT IMAGE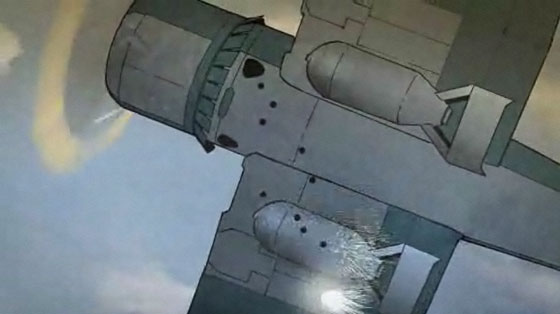 Shrapnel strikes Gray's Corsair, knocking one of the 500 pound bombs away and setting his plane on fire. As he presses on, the flames stream behind him.
NEXT IMAGE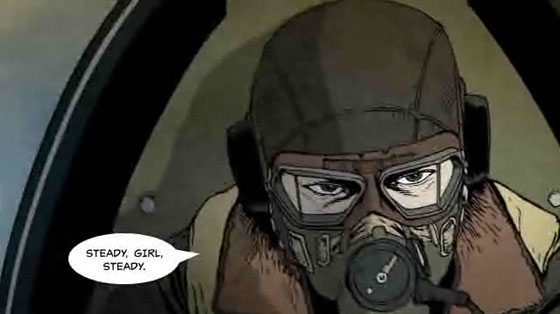 Gray has managed to close within a very short distance of the ship as he steadies his plane.
GRAY: STEADY, GIRL, STEADY.
NEXT IMAGE
Gray's hand activates the bomb release.
NEXT IMAGE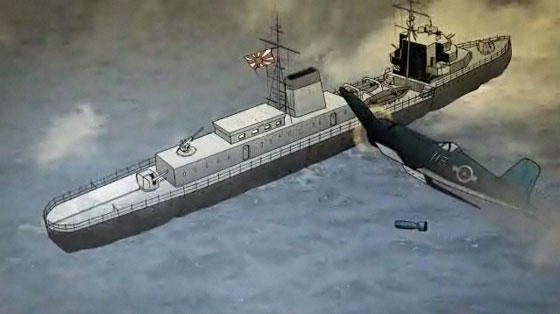 The bomb is released from the Corsair and is seemingly on target as machine-gun fire from the ship hits the Corsair's fuselage.
PAGE TWELVE
NEXT IMAGE
The bomb skips over the water and lands a perfect strike amidship, below the after gun turret. An explosion rocks the ship (the ammunition locker has just exploded courtesy of the bomb), and blows out the starboard side of the ship. Overhead, Gray's Corsair, trailing flames and smoke, enters a roll.
NEXT IMAGE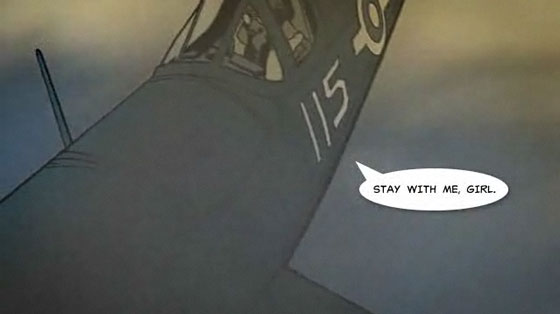 In the cockpit, Gray fights to control his plane harder now.
GRAY: STAY WITH ME, GIRL.
NEXT IMAGE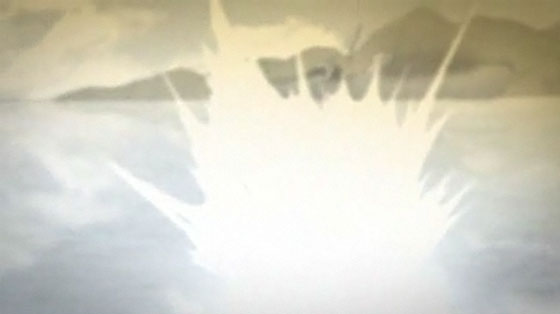 Gray's burning plane turns slowly, rolling onto its back and plowing into the water as the Amakuza rolls and sinks.
NEXT IMAGE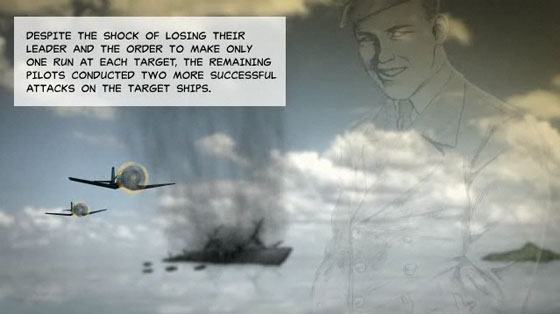 Gray's Corsair is in pieces in the water as a Corsair from his flight passes overhead, the young pilot looking down in horror.
YOUNG PILOT: THERE GOES HAMMY.
CAPTION: DESPITE THE SHOCK OF LOSING THEIR LEADER AND THE ORDER TO MAKE ONLY ONE RUN AT EACH TARGET, THE REMAINING PILOTS CONDUCTED TWO MORE SUCCESSFUL ATTACKS ON THE TARGET SHIPS.
NEXT IMAGE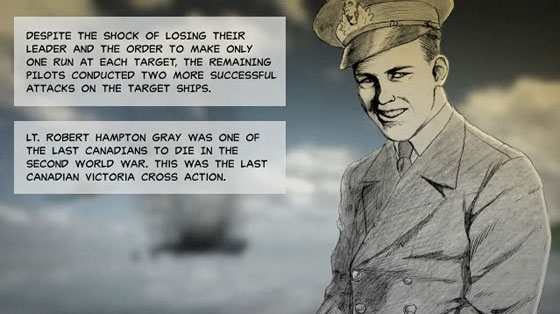 A shot of the Pacific and Corsairs returning from their mission, with Gray superimposed over it.
CAPTION (BOTTOM): LIEUTENANT ROBERT HAMPTON GRAY WAS ONE OF THE LAST CANADIANS TO DIE DURING THE SECOND WORLD WAR. THIS WAS THE LAST CANADIAN VICTORIA CROSS ACTION.
Credits
| | |
| --- | --- |
| Director and Artist | Scott Henderson |
| Animator and Motion Designer | Aaron Scott Hildebrandt |
| Sound Designer, Recorder & Mixer | Scott Enns |
| Sound Supervisor | Scott Enns |
| Writer | Timo Puolitaipale |