Alan McLeod
Script
Alan McLeod "The Dauntless Boy"
SUMMARY
Alan McLeod's first act of selflessness was as a child in rural Manitoba, freeing a dog from a trap showed people his good character. Only a few years later during the First World War, this same selflessness emerged again as he carried observer A.W. Hammond from the burning wreckage of their Armstrong Whitworth F.K.8 aircraft.
With selflessness comes courage in the face of danger – the day he saved Hammond's life (and earned his Victoria Cross), young McLeod had been forced to fly his burning plane while standing on the wing. He continued to engage the enemy in battle as he careened toward the ground.
SCENE 1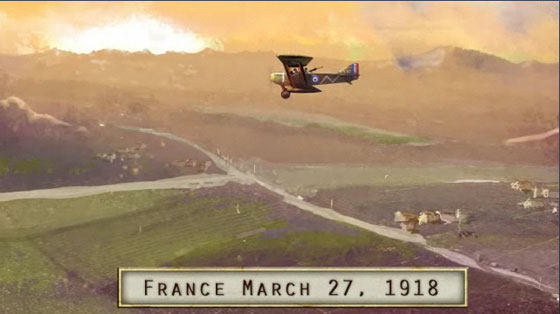 Fog and low cloud over France. An Armstrong Whitworth F.K.8 bomber cuts through the sky above the war. Below, in the breaks in the cloud cover, waves of German infantry pour over allied positions. There is the distant sound of a dog barking. It may only be a memory.
CAPTION: FRANCE. MARCH 27, 1918
NEXT IMAGE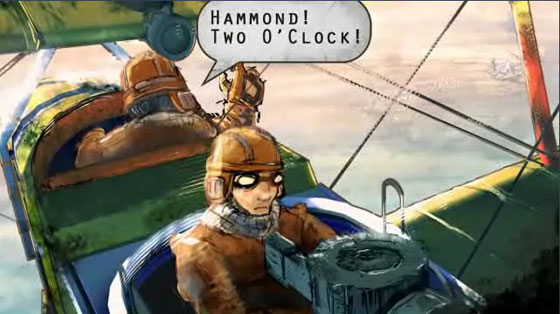 In the bomber, 2/Lt. Alan McLeod (18) pilots, looking much too young for the job. Lt. Arthur Hammond, his Observer and much more the veteran airman, points down at the ground in the distance ahead of them: a German artillery battery.
MCLEOD: HAMMOND! TWO O'CLOCK.
HAMMOND: THAT'S WHAT WE NEED. LET'S GIVE HER A RUN.
CAPTION: 2/LT. ALAN MCLEOD AND LT. ARTHUR HAMMOND HUNT FOR BOMBING TARGETS.
As McLeod and Hammond set the bomber for a bomb run, a Fokker Driedecker has just appeared out of the clouds 200 yards away and slightly below the Armstrong.
HAMMOND: WE HAVE COMPANY.
NEXT IMAGE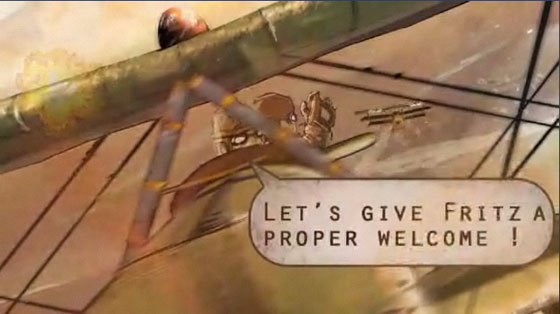 McLeod, sporting a boyish grin, pushes on his stick to maneuver the bomber into position.
MCLEOD: LET'S GIVE FRITZ A PROPER WELCOME!
McLeod has maneuvered the bomber into position and Hammond fires at the Fokker, bullets riddling it as it flips over on it's back.
SFX: ACK – ACK – ACK!
McLeod and Hammond congratulate each other as the Fokker Driedecker plunges to the earth.
Close-up on Hammond, who looks upward with concern in his eyes.
With the skies suddenly somewhat clearer, seven Fokker Driedeckers dive down on McLeod's bomber.
HAMMOND: BLOODY HELL.
HAMMOND (turning): McLeod…
NEXT IMAGE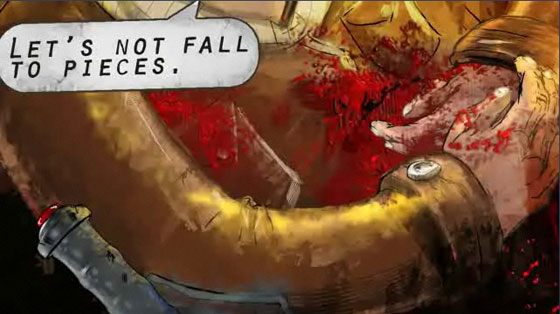 SFX: ACK – ACK! ACK – ACK!
The seven German Fokkers swarm the bomber, diving, firing and pulling up. Hammond and McLeod – grinning like he's at the county fair – fire back with both guns at Fokkers.
Lt. Hans Kirschstein, the German flight leader, flies up towards the bomber's belly as a pair of Fokkers cross further above. Kirschtein aims. Fires.
SFX: ACK – ACK – ACK!
McLeod's bomber is dead center of Kirschtein's bulls-eye as bullets rip into the bomber's fuselage.
Three of Kirschtein's bullets hit McLeod in the side and he screams in pain, his hand going to his side.
MCLEOD: ARGH!
Amidst the swarming Fokkers, McLeod regains control as the bomber catches fire.
MCLEOD: COME ON, GIRL, LET'S NOT FALL TO PIECES.
SFX: WHOOMPH!
That bomber leaks fuel from the shot up fuel tank as Hammond slumps in his seat, shot six times.
NEXT IMAGE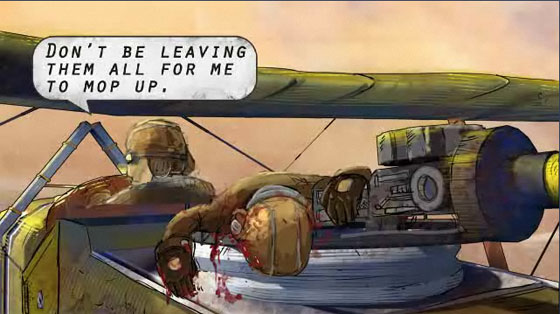 McLeod grits his teeth as he maneuvers the bomber.
MCLEOD: COME ON HAM, DON'T BE LEAVING THEM ALL FOR ME TO MOP UP.
Hammond struggles up and, having the use of only one arm.
HAMMOND: AND MISS ALL THE FUN? NOT A CHANCE.
Hammond fires a volley into a Fokker that's coming in for an easy kill.
SFX: ACK – ACK! ACK – ACK!
The Fokker shot up by Hammond falls away from the fight.
McLeod side-slips the bomber to keep the flames to the right side of the plane, at the same time helping Hammond fire at a closing Fokker. As the bomber is on fire, chased and surrounded by the remaining Fokker Driedeckers, McLeod climbs out of his cockpit and onto the left, lower wing to avoid the flames and yaws the bomber to keep the flames to the right of the plane.
CAPTION: 2/LT. McLEOD ATTEMPTS A SIDE SLIP TO KEEP THE FLAMES OFF HIS GUNNER.
SFX: ACK – ACK! ACK – ACK!
McLeod's bomber is in a gradual downward trajectory, smoking and on fire, its crew hanging on, as Kirschtein's Fokkers pull away from the doomed Armstrong.
MCLEOD: YOU ENJOYING YOURSELF YET?
HAMMOND: NEVER STOPPED, MY BOY, NEVER STOPPED.
Hammond sees fire beneath him on the fuselage, and so pulls himself out of its reach.
CAPTION: LT. HAMMOND PULLS HIMSELF UP TO SAFETY FROM THE FLAMES.
NEXT IMAGE
Hammond swings his machine gun and fires as McLeod veers the bomber into better position.
CAPTION: MCLEOD POSITIONS HIS AIRCRAFT FOR HAMMOND TO FIRE OFF ANOTHER ROUND.
As a Fokker is diving too close to the bomber, Hammond fires a short burst at it. The force of Hammond's bullets shatters the Fokker so that it breaks off at the pilot's seat and the fiery wreckage falls to the earth below.
SFX: KER – RACK!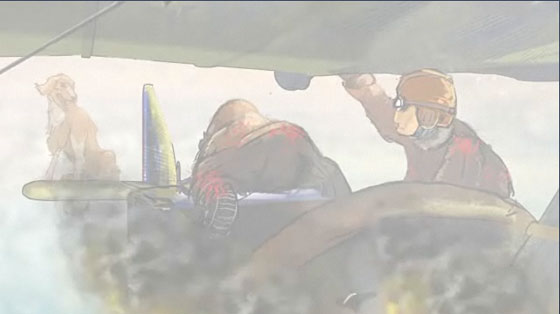 McLeod, continuing to side-slip the bomber, has just managed to flatten out the glide. This is moments before they are about to crash in no-mans-land.
Close on McLeod as he grits his teeth, a twinkle in his eye.
The faint image of a dog, barking, appears before McLeod.
MCLEOD: EASY, GIRL.
A fire burns around the crashed bomber along with its eight bombs and a load of ammunition. McLeod is hauling Hammond towards a shell hole.
MCLEOD: WE HAVE TO GET OUT OF HERE!
The bombs from McLeod's bomber blow up spectacularly, sizzling shrapnel hitting McLeod in the back as burning debris scatters all around him and Hammond. The force of the blast blows them forward as the debris and shrapnel scatter.
SFX: BOOM!
NEXT IMAGE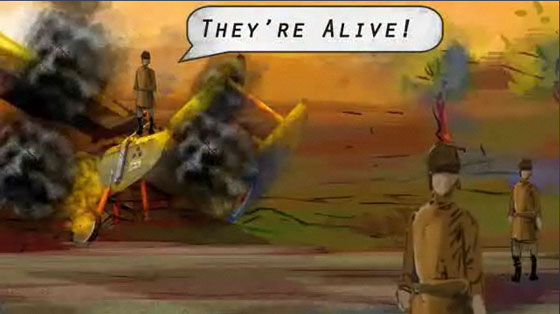 Dark of night. McLeod and Hammond lie in a shell hole, badly burned, both shot multiple times and looking like dead men. They are being checked by airmen of the South African Scottish Regiment.
SOUTH AFRICAN SOLDIER: THEY'RE ALIVE!
McLeod and a South African Scottish Regiment soldier, close to McLeod, share a light laugh.
SOUTH AFRICAN SOLDIER #2: YOU'RE SAFE NOW. YOU WILL BE IN ENGLAND IN A FEW DAYS.
MCLEOD: THANK YOU.
SOUTH AFRICAN SOLDIER #2: THAT WAS BLOODY GOOD SHOOTING SIR!
MCLEOD: YAH… BUT I WISH I HAD ANOTHER CRACK AT THAT BUGGER WHO SHOT ME DOWN.
McLeod, as he's about to be lifted onto a stretcher to carry him towards allied lines, grabs a clump of earth in his fist.
NEXT IMAGE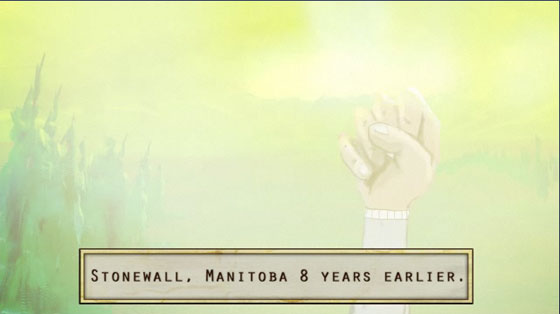 McLeod, a year or two away from being a teenager, crumbles a clump of hard earth in his hand and stares – that same boyish twinkle in his eye – at the wounded dog. A friend looks on, worried.
CAPTION: STONEWALL, MANITOBA. EIGHT YEARS EARLIER.
FRIEND: DON'T DO IT, ALAN.
McLeod gives the dog space as it bares its teeth at him, in the street. McLeod enjoys the moment. His two friends watch in the background, their faces a mix if apprehension and excitement.
MCLEOD: IT'S OKAY, GIRL.
FRIEND #2: COME ON MCLEOD, DON'T BE CRAZY!
McLeod, now closer to the dog and with a little less swagger and more gentleness. The dog is tired but wary.
MCLEOD: EASY, GIRL, EASY. LET'S GET THAT NASTY TRAP OFF.
McLeod removes the trap as the dog lays there, letting him do it.
The dog limps away as a police constable holds the trap. McLeod, a youthful grin on his lips, watches the dog in admiration, unaware of the admiring gazes cast his way by townspeople.
Credits
| | |
| --- | --- |
| Complex Games Inc. | |
| Artist, Designer, Timer, Effects | Jonas Van Niekerk |
| Producer | Noah Decter-Jackson |
| Sound Designer, Recorder & Mixer | Scott Enns |
| Sound Supervisor | Scott Enns |
| Writer | Ryan Fitzgerald |