Andrew Mynarski
Script
Andrew Mynarski "Good night, Mr. Brophy"
SUMMARY
PAGE ONE
Andrew Mynarski and Pat Brophy were good friends – besides being part of the same flight crew, they often socialized together. With Mynarski in the mid-upper turret and Brophy in the rear turret of their Lancaster bomber, the men had formed a wartime bond.
The night of June 13, the Lancaster they were in encountered heavy fire, and the crew was ordered to evacuate the plane. Seeing that Brophy's turret was jammed, Mynarski crawled through the fiery rear of the plane to try and rescue his good friend. Brophy ordered Mynarski to abandon both him and the plane; miraculously, Brophy survived the crash. Mynarski was not so lucky.
NEXT IMAGE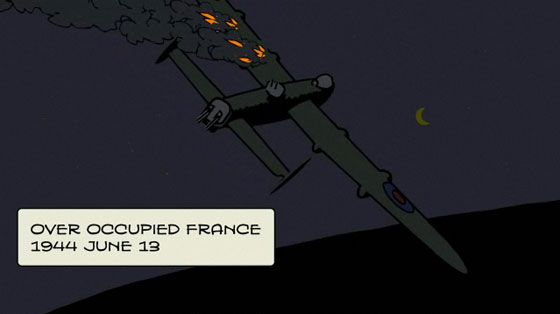 The Lancaster bomber, A for Able descends, the port engines on fire.
CAPTION: OVER OCCUPIED FRANCE 1944 JUNE 13
NEXT IMAGE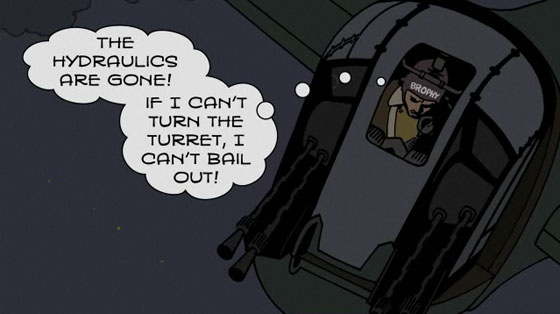 In the rear turret, PAT BROPHY sits.
BROPHY (Thoughts): THE HYDRAULICS ARE GONE. IF I CAN'T TURN THE TURRET, I CAN'T BAIL OUT!
NEXT IMAGE
Closer shot of Brophy.
BROPHY (thoughts): UNLESS I USE THE MANUAL CRANK!
NEXT IMAGE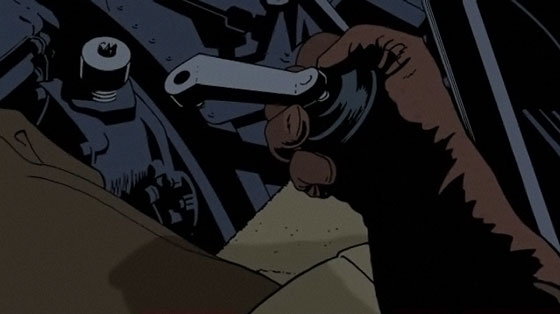 The handle for the manual crank breaks off in his hand.
SFX: Snap!
NEXT IMAGE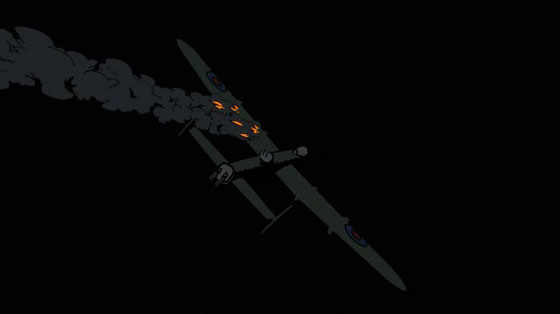 The Lancaster, with two engines still on fire and a trapped rear gunner, continues its descent.
PAGE TWO
NEXT IMAGE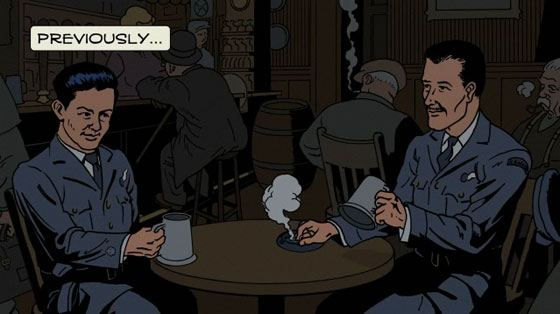 CAPTION: PREVIOUSLY…
Brophy and Andy sip a couple of pints in an English pub.
NEXT IMAGE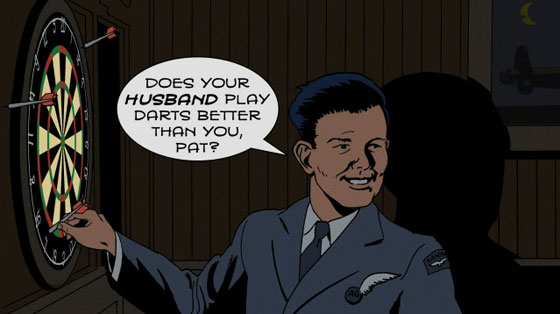 Andy pulls a flight of darts from the dart board while Brophy waits his turn at the line.
ANDY: DOES YOUR HUSBAND PLAY DARTS BETTER THAN YOU, PAT?
BROPHY: I THINK YOU MEAN, "BETTER THAN YOU, SIR."
NEXT IMAGE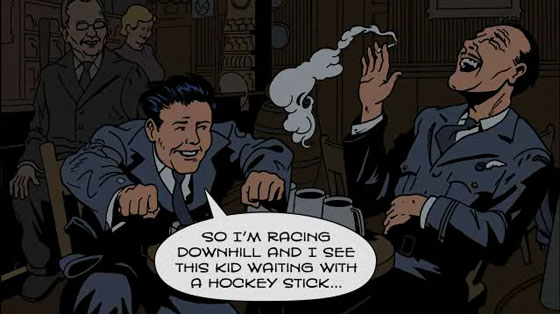 Andy pantomimes leaning over the handlebars of a bike while Brophy laughs.
ANDY: SO I'M RACING DOWNHILL AND I SEE THIS KID WAITING WITH A HOCKEY STICK…
NEXT IMAGE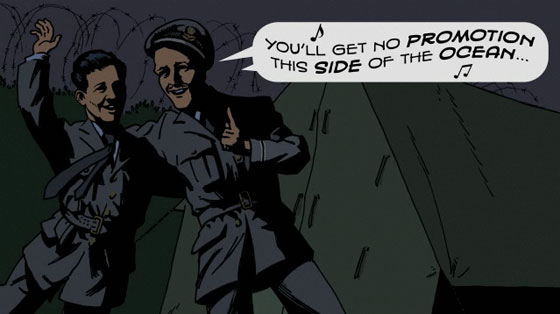 The men lean on each other outside a tent marked "Officers' Quarters," singing in a ragged unison.
BROPHY: YOU'LL GET NO PROMOTION THIS SIDE OF THE OCEAN…
ANDY: YOU'LL GET NO PROMOTION THIS SIDE OF THE OCEAN…
SLEEPER (WITHIN): KEEP IT DOWN!
NEXT IMAGE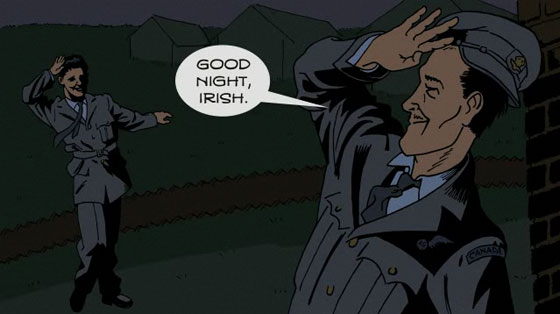 Andy takes a step back, mock solemnity on his face and snaps off a smart salute. Brophy returns it.
BROPHY: GOOD NIGHT, IRISH.
ANDY: GOOD NIGHT, SIR!
PAGE THREE
NEXT IMAGE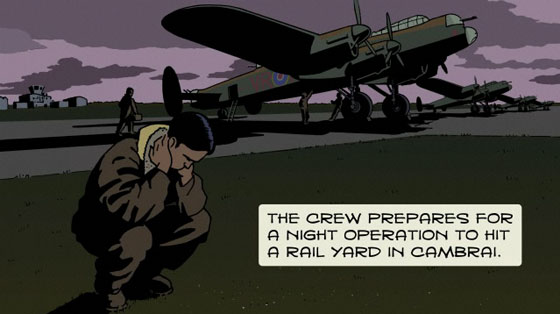 CAPTION: THE CREW PREPARES FOR A NIGHT OPERATION TO HIT A RAIL YARD IN CAMBRAI.
Andy, now kitted out for flight with Mae West and cold-weather gear and lit by a summer sunset. His eyes are downcast.
NEXT IMAGE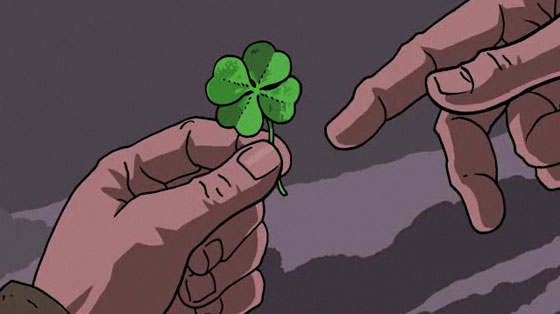 Close on a four-leaf clover that Andy plucks.
CAPTION: THEIR THIRTEENTH OPERATION.
PANEL THREE
Andy hands the clover to Brophy, as they are about to board the Lancaster.
NEXT IMAGE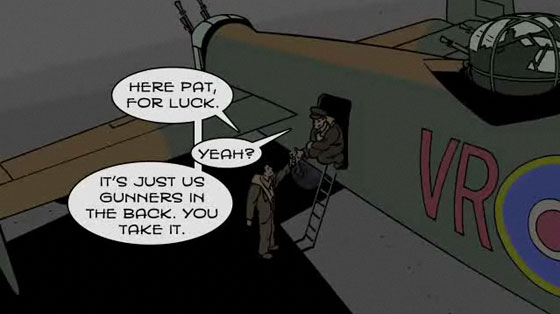 ANDY: HERE PAT, FOR LUCK.
BROPHY: YEAH?
Tucks the four-leaf clover into his helmet.
ANDY: IT'S JUST US GUNNERS IN THE BACK. YOU TAKE IT.
PAGE FOUR
NEXT IMAGE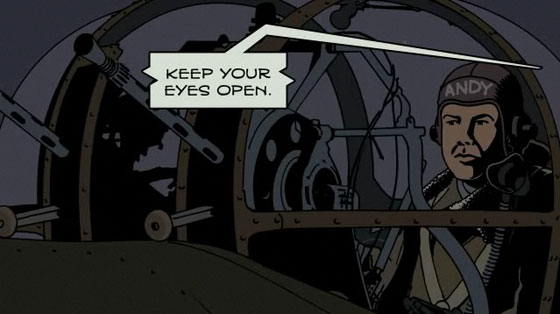 The A for Able, and other planes like it, fly through the night.
Andy occupies the mid-upper gunner position. He scans the skies.
BODIE (Over radio): NAVIGATOR TO CREW. WE'RE OVER FRANCE. KEEP YOUR EYES OPEN.
NEXT IMAGE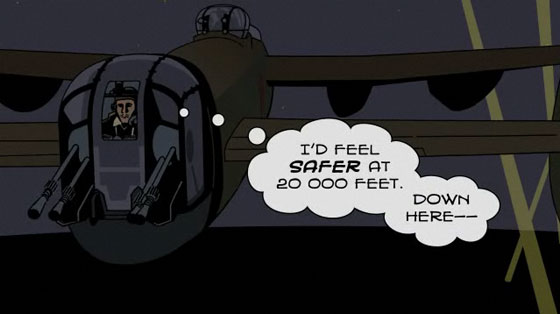 Brophy, in the rear gunner position swivels his turret.
BROPHY: I'D FEEL SAFER AT 20,000 FEET. DOWN HERE–
NEXT IMAGE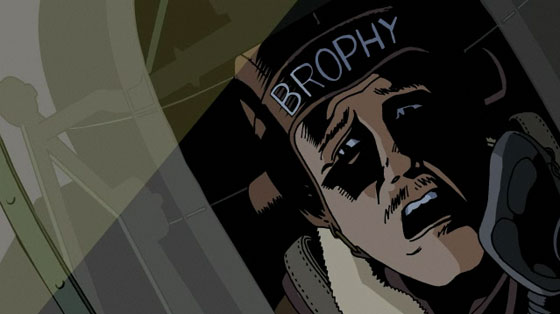 Brophy's face illuminates with terror as the searchlight floods the aircraft with light.
BROPHY (Thought bubble): SEARCHLIGHT! THEY'VE CONED US!
PANEL FOUR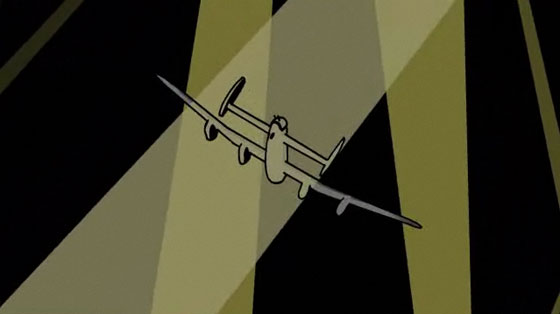 Exterior shot — the Lancaster drops into a descending right-hand turn but is brilliantly lit by three searchlights from below.
PAGE FIVE
NEXT IMAGE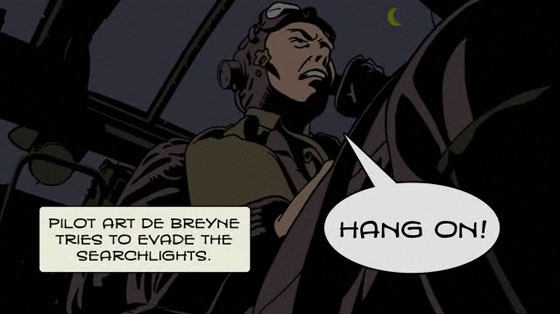 In the cockpit, De Breyne hunches forward, the control wheel swiveled like a steering wheel at a 45 degree angle.
DE BREYNE: HANG ON!
CAPTION: PILOT ART DE BREYNE TRIES TO EVADE THE SEARCHLIGHTS.
NEXT IMAGE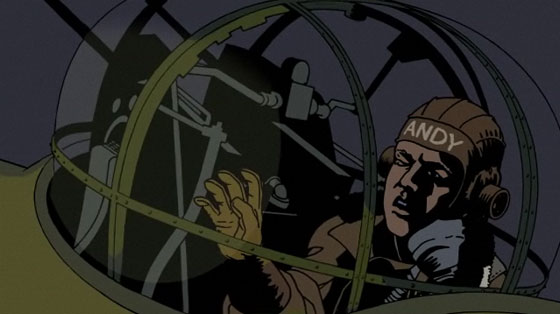 Andy and Pat Brophy scan the skies one-eyed for fighters.
NEXT IMAGE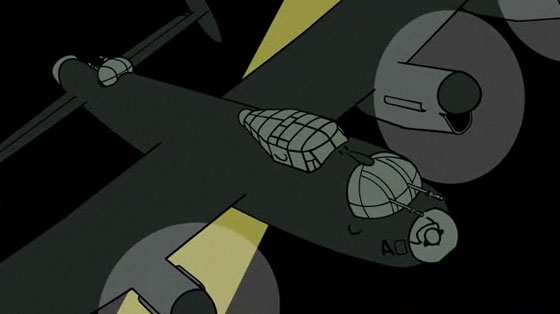 The lights slide off the aircraft and the fuselage is plunged in darkness again.
From the flight deck, Vigars puts a congratulatory hand on De Breyne's shoulder.
VIGARS: GOOD JOB, ART!
An uneasy peace settles over the crew, it was too soon to tell if they were safe.
NEXT IMAGE
Sharing the aft table, Friday looks significantly at Bodie.
FRIDAY: UNLESS A NIGHT-FIGHTER'S GOT US…
NEXT IMAGE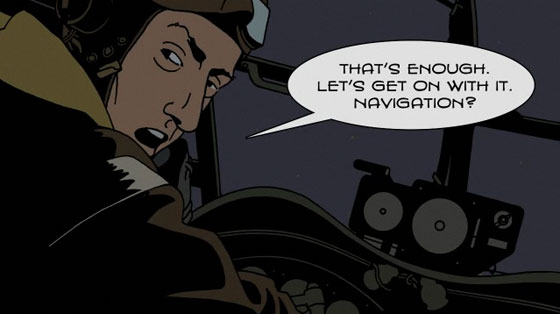 DE BREYNE (Radio): THAT'S ENOUGH. LET'S GET ON WITH IT. NAVIGATION?
NEXT IMAGE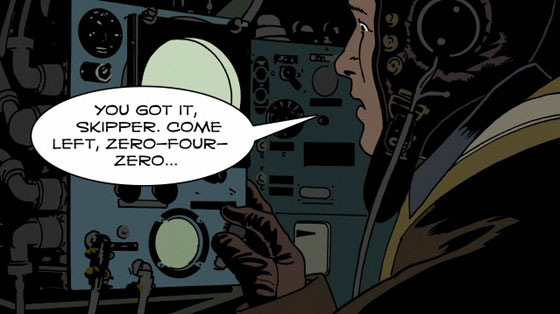 Brodie checks his instruments.
BODIE: YOU GOT IT, SKIPPER. COME LEFT, ZERO-FOUR-ZERO…
PANEL EIGHT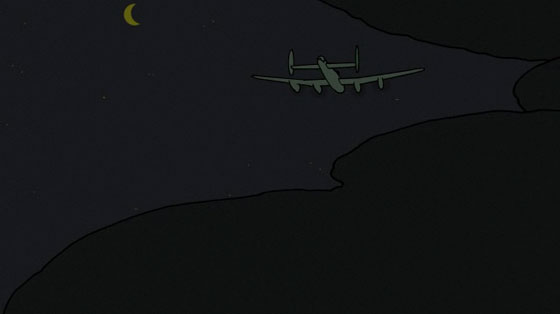 The Lancaster, dark, flies into the distance. In the very near foreground, the cowl of a Ju-88 night fighter inches into view…
PAGE SIX
NEXT IMAGE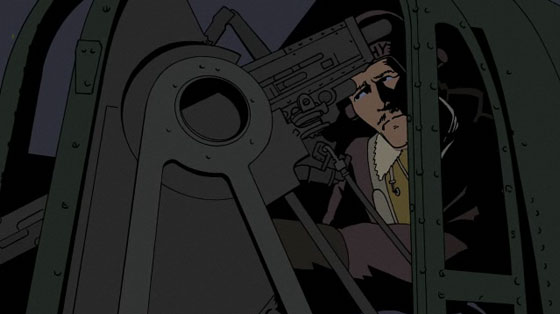 Brophy peers down through his turret.
NEXT IMAGE
The JU-88 appears briefly between two clouds.
NEXT IMAGE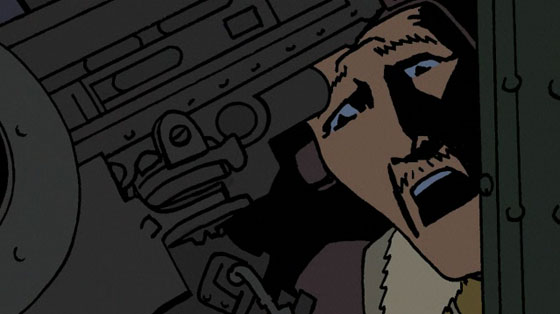 Brophy squints closer.
NEXT IMAGE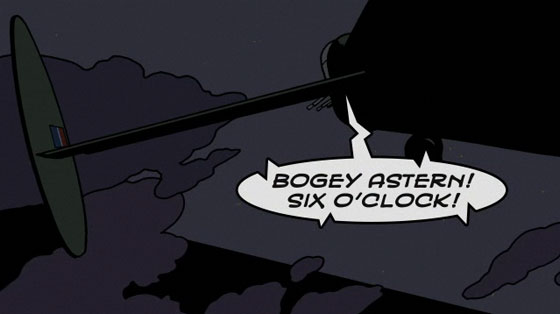 BROPHY (Radio): BOGEY ASTERN, SIX O'CLOCK!
NEXT IMAGE
Art De Breyne begins evasive maneuvers.
NEXT IMAGE
Brophy searches to locate the JU-88 again.
NEXT IMAGE
The JU-88 emerges from a cloud, firing.
PAGE EIGHT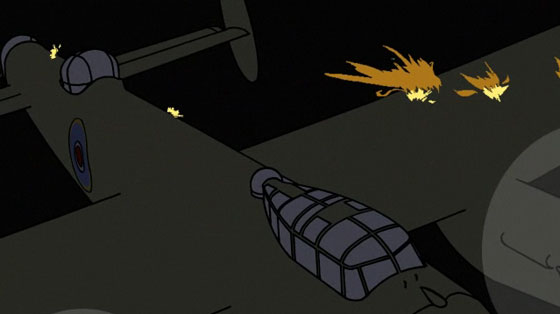 Full-page horror at 5,000 feet.
The night fighter, immediately beneath the Lanc. The nightfighter's guns are angled upward at a 45-degree angle.
SFX: ACK-ACK-ACK-ACK!
The fuselage is raked and the fuel tank between the port engines ignites into a streaming fireball!
SFX: K-K-KOFF! KA-BOOM!
PAGE NINE
NEXT IMAGE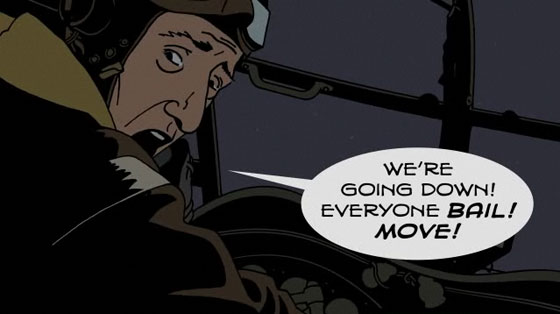 Art De Breyne, flying the plane.
DE BREYNE: We're going down! Everyone bail! Move!
NEXT IMAGE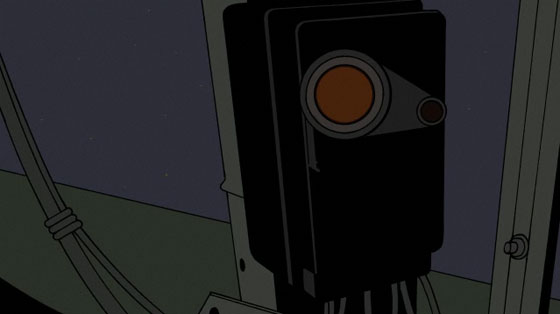 An oasis of calm. Andy looks down. A red light at his position is flashing.
NEXT IMAGE
Andy unhooks his harness and prepares to descend to the main fuselage.
ANDY: I'M GETTING THE LIGHT TO BAIL. IF YOU CAN READ ME AT ALL, PAT, I'LL SEE YOU ON THE GROUND.
NEXT IMAGE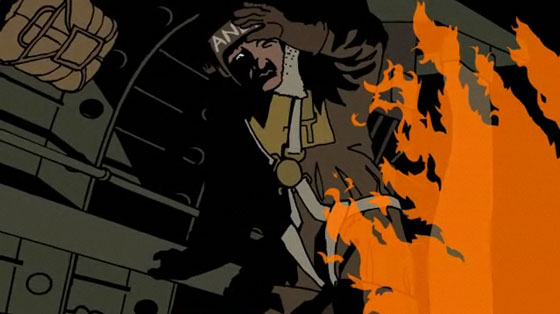 The fuselage is lit with flame. Shielding his face against the smoke and heat, Andy moves to the crew door.
NEXT IMAGE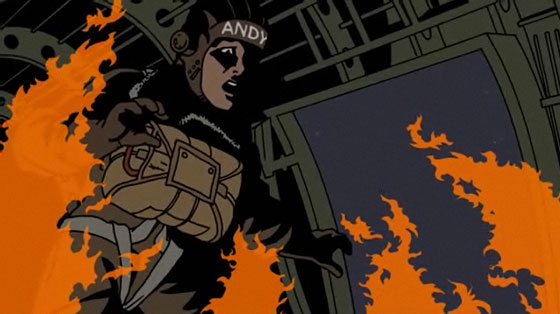 Andy opens the rear hatch, parachute on his back, ready to step out into the slipstream.
NEXT IMAGE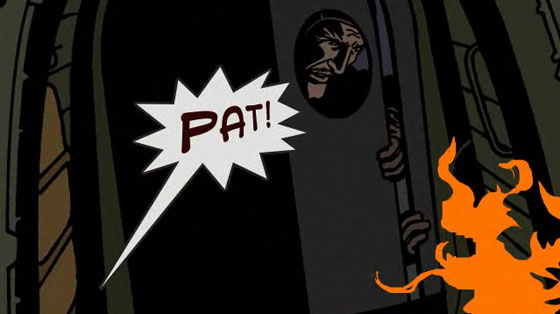 Andy's point of view — down the aft flaming fuselage, Brophy is just barely visible through the partially-open doors, struggling to free himself from the turret.
NEXT IMAGE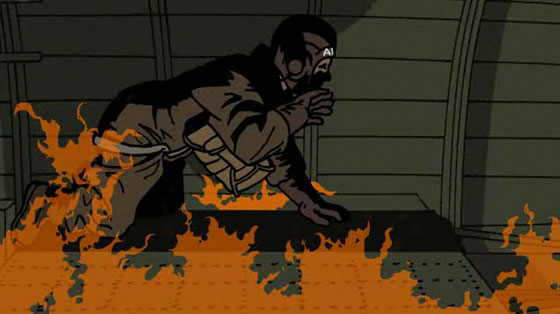 Andy turns from the open hatch.
ANDY: PAT! HE'S TRAPPED!
PAGE TEN
NEXT IMAGE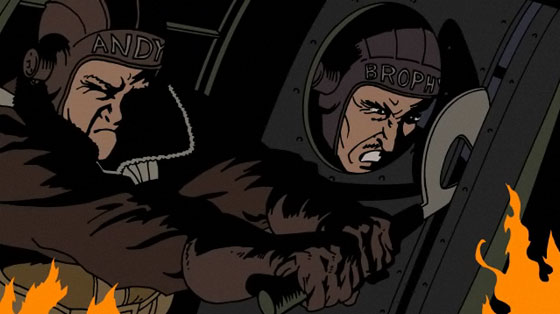 Andy drops to his knees and crawls along the burning aft fuselage over the rear spar, straight through the blazing hydraulic fluid which coats his arms, legs and parachute.
ANDY: -KOFF KOFF!- BROPHY!
NEXT IMAGE
Brophy sees Andy approach, trousers in flames.
BROPHY: GO BACK! IT'S JAMMED! DON'T TRY!
ANDY: HANG ON!
NEXT IMAGE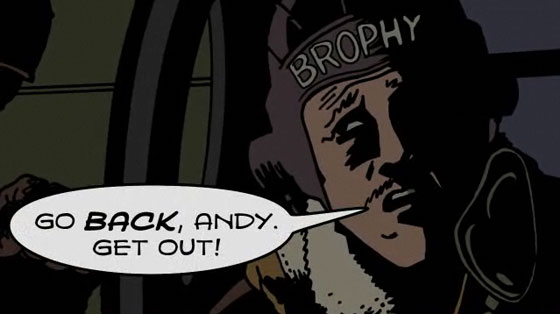 The two men heave on the jammed vertical metal door.
NEXT IMAGE
It gives a little, but not enough. Andy in desperation and pain tears at the doors with his bare hands.
NEXT IMAGE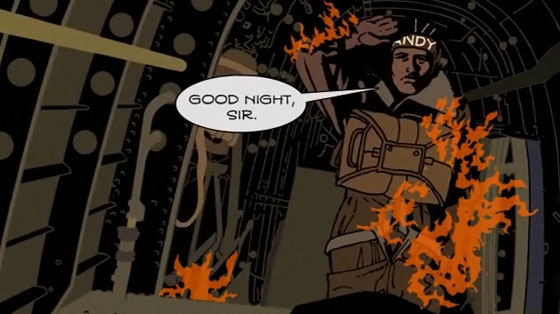 BROPHY: GO BACK, ANDY. GET OUT!
When Brophy waves him away Andy hangs his head and nods, as though ashamed to leave.
PAGE ELEVEN
NEXT IMAGE
Eyes tightly closed, Andy returns to the aft crew door at a crawl, his face clenched in pain, both physical and emotional.
NEXT IMAGE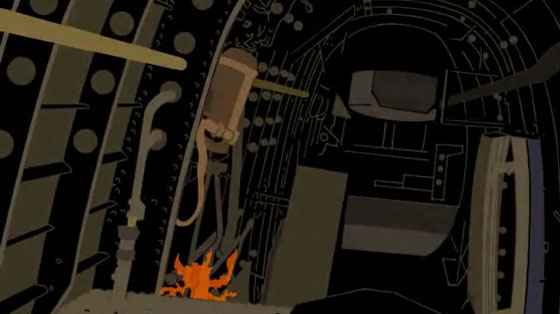 The iconic image — Andy stands at the threshold of the crew door, looking back at Pat Brophy. He salutes.
ANDY (hoarse): GOOD NIGHT, SIR.
NEXT IMAGE
Same shot as before, but the crew door is empty of all but smoke and starlight.
PAGE TWELVE
NEXT IMAGE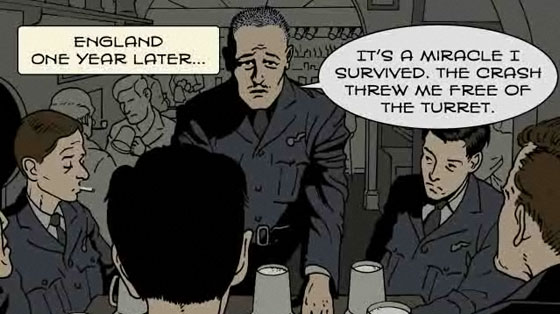 CAPTION: ENGLAND, ONE YEAR LATER…
A haggard-looking Pat Brophy looks downward. Standing at a table in a pub, surrounded by all the members of the crew except Andrew Mynarski.
BROPHY: IT'S A MIRACLE I SURVIVED. THE CRASH THREW ME FREE OF THE TURRET. THE FRENCH FOUND ME, HELPED ME TIL I COULD GET BACK TO ENGLAND.
NEXT IMAGE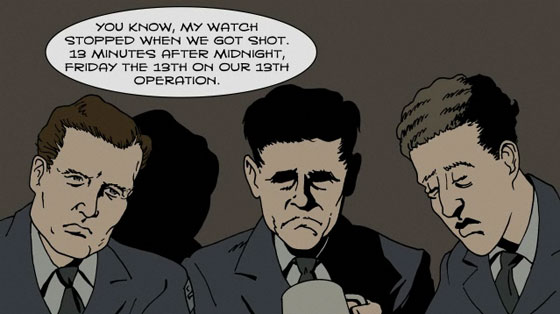 All these men are emotionally scarred from their experience. They listen to Pat Brophy with serious faces.
BROPHY: YOU KNOW, MY WATCH STOPPED WHEN WE GOT SHOT. 13 MINUTES AFTER MIDNIGHT, THE 13TH OF JUNE ON OUR 13TH OPERATION. ANDY… HE– HE WOULD HAVE MADE IT…
NEXT IMAGE
Brophy covers his face with a hand.
DE BREYNE: ANDY LOOKED AFTER HIS OWN.
NEXT IMAGE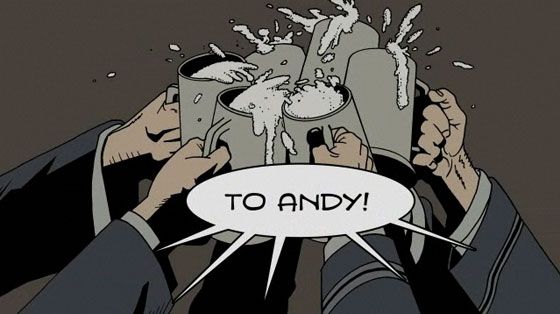 Each of the men raises a glass.
ALL: TO ANDY.
NEXT IMAGE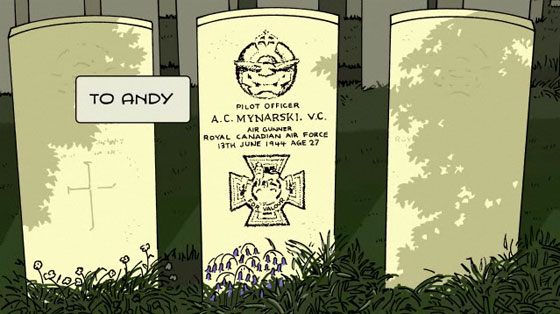 A shot of Andrew Mynarski's gravestone near Cambrai France.
CAPTION: TO ANDY.
Credits
| | |
| --- | --- |
| Artist | Nicholas Burns |
| Sound Designer, Recorder & Mixer | Scott Enns |
| Sound Supervisor | Scott Enns |
| Writer | Ryan FitzGerald |